I promise you, these Sprouted Light Rye Sandwich Buns are nothing like the heavy sprouted grain products you may have tried and are far less expensive to make at home.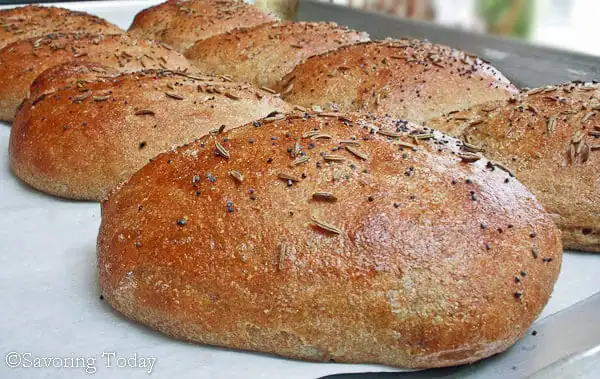 Since I have always been a huge fan of rye bread, it seemed only fitting to make Rye Buns for Reubens on St. Patrick's Day.
It has been such a win around here using sprouted grain flour in our favorite bread recipes, especially since it is difficult to find soft, appealing sprouted grain buns in stores.

---
This post may contain affiliate links. For more information, please see our Disclosure Policy.
---
Finding the Right Mix of Sprouted Rye and Whole Wheat Flour
Here in the U.S., rye bread is typically a rye-wheat mix rather than a true 100% rye bread. Rye flour has a lower level of gluten which prevents breads from rising well, so wheat flour is added to produce a more appealing loaf.
Depending on the baker you talk to, the rye to wheat ratio can be anywhere from 18-40%. In this recipe, 18% sprouted rye flour and 82% sprouted wheat flour creates the soft, light texture we want in a sandwich bun.
Purchasing sprouted grain flours can leave you with sticker shock, however we consider it an investment in our health. Even though sprouted grain is a healthier choice, it is still a small part of our overall diet.
Caraway Seeds for Classic Rye Flavor
For me, rye bread isn't really rye without caraway seeds, so this recipe includes crushed seeds in the dough and a generous sprinkle to dress the tops. The seeds can be crushed with a mortar & pestle or coarsely ground in a spice grinder, depending on personal preference.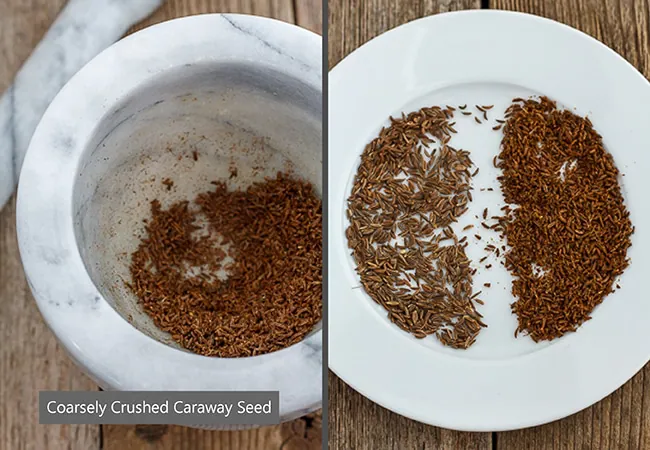 Butter and toast the buns on a skillet for a crisp edge that will stand up to any favorite sauce on Reubens, pastrami, tuna salad, burgers, or classic patty melts.
Of course, our Sprouted Rye Buns are as tempting as any bread straight from the oven, so have butter close by for indulgences.
Follow the technique in this recipe video to learn how easy it is to work with sprouted flour to make the best sprouted rye buns.
Sprouted Light Rye Sandwich Buns
Soft, delicious light rye buns with a combination of sprouted whole wheat and sprouted rye flours, studded with the familiar flavor of caraway seeds.
Ingredients
2

cups

water 110°F

2 1/4

teaspoons

active dry yeast

, or 1 (1/4-ounce) package

2

tablespoons

honey

1

cup 

sprouted rye flour

4 1/2

cups

sprouted whole wheat flour

2

tablespoons

melted butter

1

large

egg

1

large

egg yolk

1

tablespoon

lemon juice

2

teaspoons

sea salt

1

large

egg white

, reserved, lightly beaten

1

tablespoon

caraway seeds

, crushed or coarsely ground -- plus extra whole seeds for tops

Extra-virgin olive oil

, or avocado oil -- for managing dough
Instructions
Mix the yeast and honey with the water and let yeast soften for

5 minutes

. Mix in the butter, egg, egg yolk, lemon juice, crushed caraway seeds, all of the rye flour, and 2 cups of the wheat flour until smooth, 1 to 2 minutes. Drape with a towel and let dough rest for

20 minutes

so the flour can properly hydrate before adding the remaining flour.

Add the salt and remaining flour 1/2 cup at a time, mixing 1 minutes after each add, to form a soft, shaggy dough (up to 5 1/2 cups, in total). (If using a stand mixer, a paddle attachment can work better than a dough hook.) Once the dough holds it's shape (though sticky) and is stable on the mixing paddle, spread 1/4 cup of flour out on the counter. 

With floured hands, knead dough by folding over and turning 4 or 5 times to form a soft ball.


Note: Because the dough can be tacky, use a pastry knife to help the dough release from the counter rather than adding more flour, which will make the dough heavy. Switching from flour to oil on your hands can help too.

Leave the dough to rest on the counter and cover with a bowl for

5 minutes

. With oiled hands, fold the dough 4 or 5 times again, and cover with the bowl to rest again for

5 minutes

. Repeat one more time so the dough has 3 folding processes and 3 rests of 5 minutes each.

While you shouldn't need to, at this point, if the dough is still is not holding its shape and is too wet to handle, add 2-3 tablespoons more flour and complete the folding process again with an additional 5 minute rest. Otherwise, after the three folding/resting cycles, place the dough in an oiled bowl, turning over so the oiled surface it face-up.


Cover the bowl with plastic wrap and then a towel and let it rise in a warm spot (above 70°) for 1 to

1 1/2 hours

, or until nearly doubled in bulk. (The oven, with the oven light ON is a good place to let the dough rise if the room is cool.)

With oiled hands, punch down dough and divide it into 16 pieces on a lightly oiled surface (using a kitchen scale to measure even bun dough weight is ideal). Shape each piece into a round, smooth ball, place on a parchment-lined baking sheet, and flatten with the palm of the hand to about 3" across (it helps to have oil on your hands when flattening the buns).


It is best if the sides of the buns touch when flattened. Cover with a lightweight smooth towel, tent aluminum foil, or inverted rimmed baking sheet if the room is drafty. Let rise for

30-40 minutes

, or almost doubled in size. (Because the dough can be tacky, avoid covering with terry cloth or microfiber cloth towels, which can "grab" the top of the dough.)

Just before placing in the oven, brush the buns gently with the beaten egg white on all exposed sides, sprinkle with caraway seeds. Alternatively, brush with melted butter once the are baked and removed from the oven for soft, matte finish.

Bake the buns in at 375°F until golden in color, about

18 minutes

, or until the interior registers 195°F using an instant-read thermometer. Cool the buns on the pan on a wire rack for

10 minutes

, then remove from pan and cool completely on the wire rack.
Video Displays Here or In Post
Notes
Crush the caraway seeds to release more of the flavor in the seed. Use a mortar and pestle or a heavy cast iron skillet to crack or crush the seeds.
The egg wash helps the seeds to stick and give the buns a shiny crust. Brush with melted butter once removed from the oven for a soft, matte finish.
The weather and type of flour can have an impact on the dough and how tacky it feels. Avoid adding a lot of extra flour to the dough to make it more manageable. Instead, use a pastry knife to scrape and lift it when kneading or switch to an oiled surface and oil for your hands to manage the dough.
To use a kitchen scale when dividing the dough, simply weigh the mass of dough and divide by the number of desired buns. Example: 44.97 ounces divided by 16 (buns) = 2.81 ounces of dough per bun.
To make a dark rye, substitute molasses for the honey. 
Equipment
Nutrition
Calories:
203
kcal
|
Carbohydrates:
38
g
|
Protein:
7
g
|
Fat:
3
g
|
Saturated Fat:
1
g
|
Cholesterol:
28
mg
|
Sodium:
314
mg
|
Potassium:
207
mg
|
Fiber:
5
g
|
Sugar:
2
g
|
Vitamin A:
80
IU
|
Vitamin C:
0.4
mg
|
Calcium:
21
mg
|
Iron:
1.8
mg

Make Sandwich Bread with the Same Spouted Wheat/Rye Bun Dough.
Use this same dough to shape hot dog buns or sandwich bread. For sandwich bread, prepare the Sprouted Light Rye Bun recipe as indicated. Instead of forming the dough into buns in Step 6, lightly grease two 9 by 5-inch loaf pans with oil and line with parchment paper. Divide the dough equally and shape each loaf to fit in the pan, making sure the top is smooth.
Allow to rise in the pan until double, 1 1/2 to 2 hours. Bake the loaves together with equal space between the loaves and sides of oven at 375°F for 40 minutes until the crust is golden brown and loaf sounds hollow when tapped. Follow the rest of the recipe as written.
More Sprouted Wheat Bread Recipes You'll Love: