What makes these Italian Sausage & Cauliflower Rice Stuffed Peppers different than the stuffed peppers our mothers made?
Paleo and Whole30 compliant, there's no cheese, rice, or bread in this recipe but it's loaded with flavor.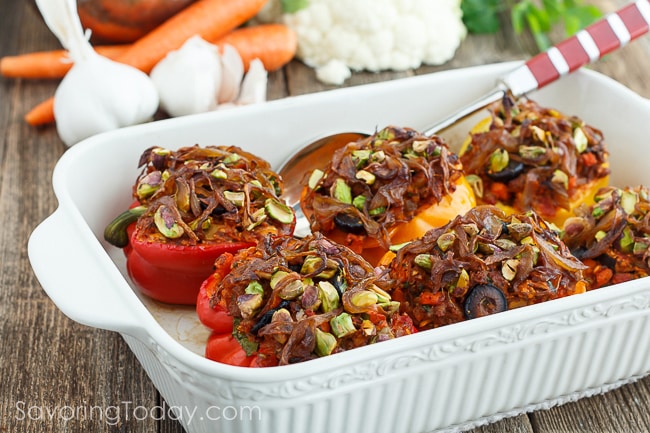 Paleo, Whole30, Low-Carb, Gluten-Free, & Dairy-Free
If you've been around Savoring Today for along, you know I don't follow or promote exclusive diets.
We established a healthy food philosophy for our family centered around meat and vegetables with full-fat dairy and sprouted grains.
This whole food approach, also known as clean eating, works for us, but I have a number of friends who suffer from food allergies or inflammatory diseases always looking for new, exciting recipes to better fit their dietary needs.
I'm here for you! And I think you'll love this recipe!
Re-Creating old Favorites to Fit New Dietary Goals
We harness the natural sweetness of caramelized onions to balance the acidic quality of peppers (that's what cheese usually does) and add the unique textural interest of pistachios.
These toppings help keep the stuffing from drying out (again, like cheese would) and bring the crispy-crunch you might be used to with breadcrumbs.
When modifying old favorites to fit new dietary goals, it's important to consider the things you love most about what you are trying to replace to find a suitable and appealing substitute.
There are Paleo cheese recipes out there, but I cannot vouch for them since I've not tried any. However, you could easily adjust this recipe to include it before you add the onions and pistachios.
Using cauliflower as a rice substitute is one of the easiest ways to reduce carbs and incorporate more vegetables into your meal plans.
It's become even easier with the availability of packaged "cauliflower rice", but all you need is a box cheese grater.
Mulay's Sausage ~ Quality Always Makes a Difference
Finding quality sausage that is also Paleo and Whole30 compliant can be tricky because even health food store brands add sugar or soy.
I was delighted when Mulay's Sausage generously provided a variety of sausage for us to try—I'm stoked to share my good fortune with you through this Italian Sausage & Cauliflower Rice Stuffed Pepper recipe.
Their sausage is All Natural, Antibiotic Free, Gluten Free, Sugar Free, Dairy Free and Soy Free—you'll notice the quality in the first bite.
I am impressed with the clean pork flavor complemented by spices that don't try to cover or mask. The chorizo is the best I've tried, balanced and flavorful with a hint of spice.
In this recipe, I used Hot Italian which I would describe as medium-mild in spicy heat. If you are the kick-it-up-a-notch type, I recommend their Killer Hot Italian instead.
Make-Ahead Easy Meal
The start to finish time might seem a little drawn out because of the baking time, but you can easily break it up by stuffing the peppers in advance and refrigerating for a couple of days until ready to bake.
The stuffing also freezes well, so you can mix up just that part of it and freeze until you're ready to put it all together to bake—just keep the caramelized onion topping separate.
Got leftovers? Serve for breakfast with a sunny side up egg on top. Oh so good!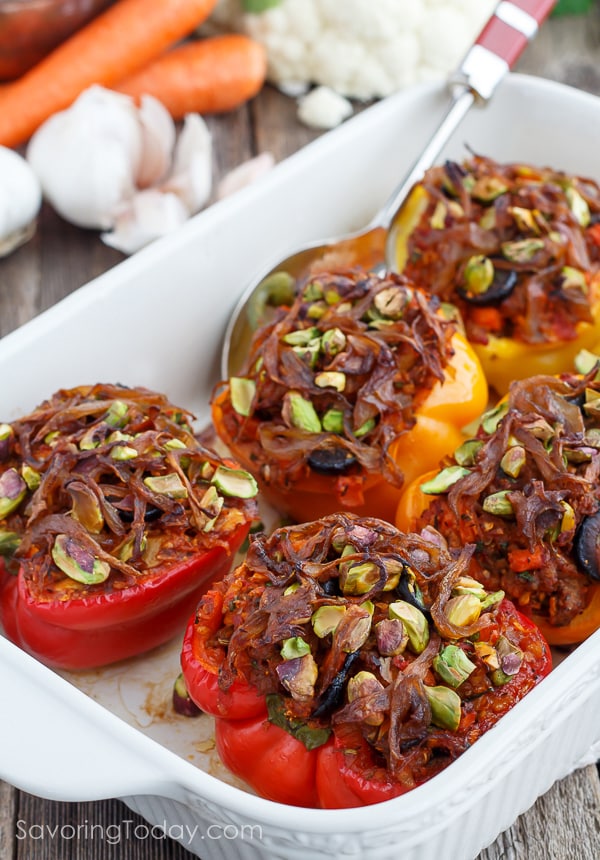 Italian Sausage & Cauliflower Rice Stuffed Peppers: Paleo & Whole30
Bell pepper with Italian sausage and cauliflower rice stuffing topped with caramelized onions and pistachios. Paleo and Whole30 compliant.
Ingredients
2

large sweet onions

(Viladia, Maui, or Texas Sweets) -- sliced thinly

3

tablespoons

extra-virgin olive oil -- as needed

12

ounces 

Mulay's Hot Italian Sausage

1

cup

diced carrots

4

ounces

mushrooms -- coarsely chopped

3

cloves

garlic -- minced

28

ounces

crushed tomatoes -- some of the sauce drained

2

tablespoons

tomato paste

2

cups

grated cauliflower -- about 1/2 pound

2

teaspoons

dried oregano

1

teaspoon

dried thyme

1

cup

sliced olives

3

tablespoons

chopped fresh parsley

4

large sweet bell peppers

1/3

cup

shelled pistachios -- coarsely chopped just enough to create jagged edges

Sea salt and freshly ground pepper
Instructions
Heat oven to 375°F. Heat 2 tablespoons of olive oil in a large skillet over medium heat, spreading the oil evenly over the pan. Add the sliced onions and stir to coat the onions with the oil.

Continue to cook onions over medium heat, about 10 minutes, stirring occasionally. Season with 1/2 teaspoon of salt and spread onions out evenly in the skillet, reduce heat to low.

Allow onions to caramelize, stirring occasionally, while preparing the rest of the dish, about 35 minutes.

In another skillet, brown the sausage, breaking up into bite-size pieces as it cooks. Transfer to a plate and set aside.

In the same skillet, cook the carrots and mushrooms in the rendered fat over medium heat 5 to 6 minutes. Stir-in the garlic, tomatoes, and tomato paste; cook for 2 more minutes.

Add the grated cauliflower to the skillet with the oregano and thyme; cook for 2 minutes, then transfer to a large bowl. Salt and pepper, to taste. Remove the onions from the skillet and set aside 2/3 cup for topping.


Chop the remaining onions and toss with the cauliflower mixture, sausage, olives, and parsley until well combined.

Slice the bell peppers in half and remove seeds. Brush the outside of the peppers with a thin coat of olive oil and lightly season the inside with salt and pepper.


Fill the peppers with the stuffing and sprinkle with pistachios. Pour 1/4 cup of water in the bottom of the pan and bake for 20 minutes. Remove from the oven and top with the caramelized onions, as desired.


Continue to bake an additional 20 to 25 minutes, or until peppers are tender and onions are golden brown.
Notes
The caramelized onions and stuffing can be made and mixed days in advance. Peppers can be stuffed up to 24 hours in advance.
Nutrition
Calories:
694
kcal
|
Carbohydrates:
48
g
|
Protein:
23
g
|
Fat:
48
g
|
Saturated Fat:
12
g
|
Cholesterol:
64
mg
|
Sodium:
1532
mg
|
Potassium:
1833
mg
|
Fiber:
13
g
|
Sugar:
27
g
|
Vitamin A:
10050
IU
|
Vitamin C:
214.9
mg
|
Calcium:
207
mg
|
Iron:
6.7
mg
More Paleo Recipes You'll Love:
Shared on Hearth & Soul Link Party
---
This post contains affiliate links. Thank you for supporting what I do here at Savoring Today. For more information regarding ads and advertising affiliations, please see our Disclosure Policy.