Our White Turkey Chili replaces tomatoes and beef with a plethora of chile peppers and ground turkey for an easy, healthy, fast dinner.
This chili recipe is just as hearty and full-flavored but a bit lighter on its feet.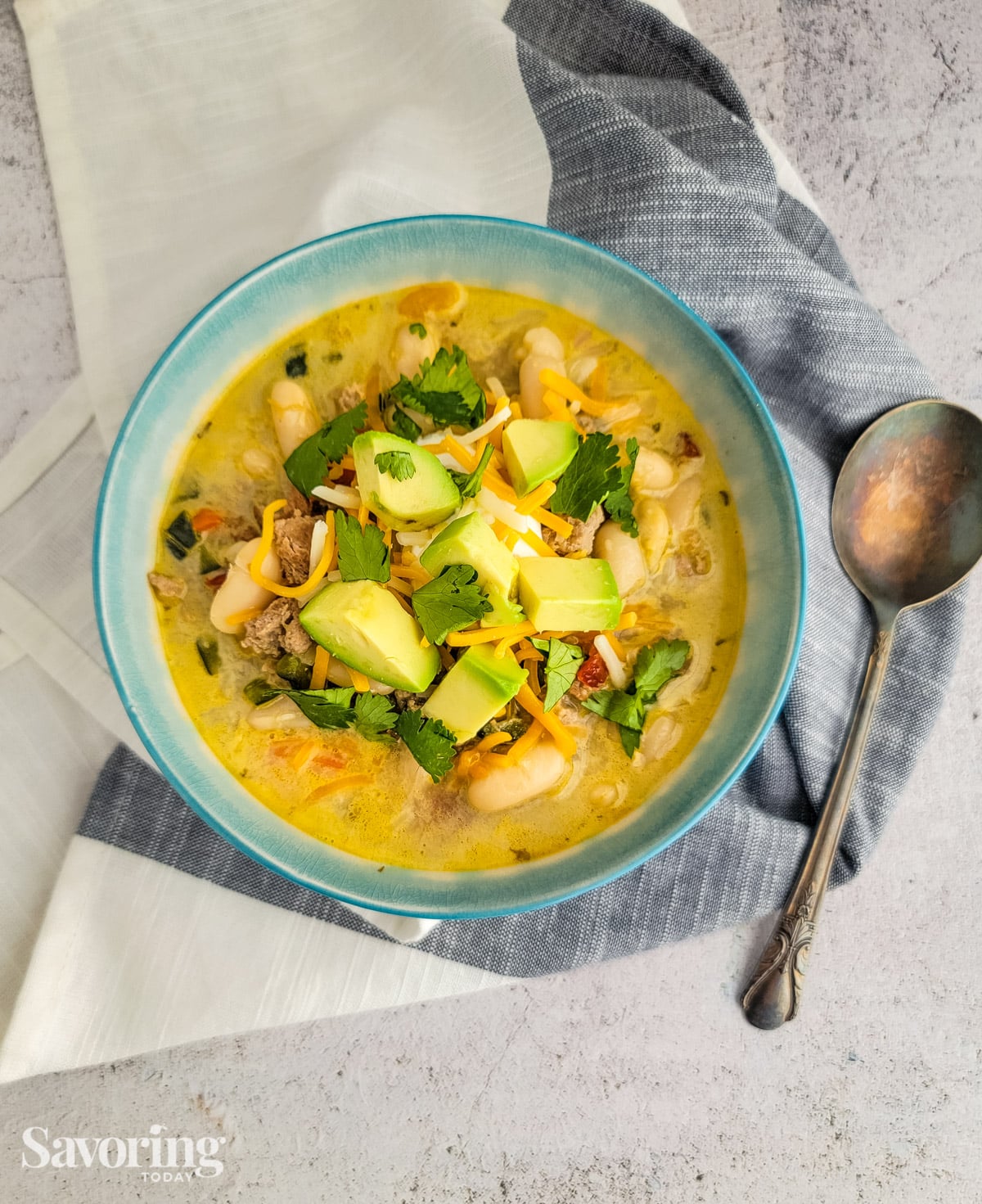 Our traditional beef and bean chili has won neighborhood chili cookoffs, so we thought it was time to try our hand at white chili too. Oh, I'm so glad we did!
As much as we enjoy a big bowl of red chili, this white turkey chili is a welcome change of pace. Tender cannellini beans, an earthy mix of spices, and a nutrient-rich, creamy broth, all tied together with a delightful trio of poblano, chipotle, and green chiles for a deeply savory, spicy backbone.
Turkey, chicken, or pulled pork work well in this recipe due to their mild character and penchant for taking on flavor, of which this recipe packs a punch. Easy to make and quick to assemble, having this chili option in the rotation will serve you well.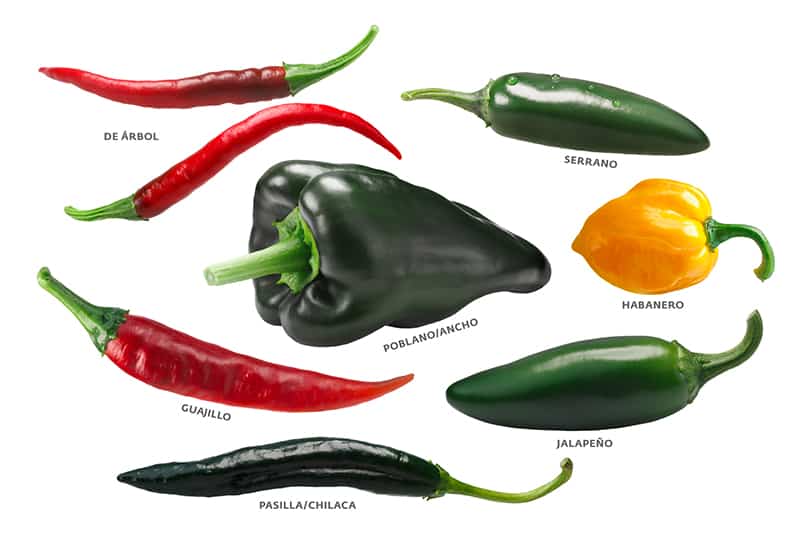 The best chile peppers for white chili
Peppers and chiles pack more than just spice, they are chock full of vitamins, often containing greater amounts of vitamins A, B2, C, potassium, magnesium, and fiber than popular vitamin vehicles like oranges or carrots.
Using a variety of chiles and peppers will bring a more complex flavor and spice to white chili. Poblanos, roasted green chiles, and chipotle peppers in adobo lay the framework for the bold southwestern nuances and spice we want in white chili.
Freah Poblano Chile Peppers
The deep green color and mild flavor of poblanos impart slight sweetness and a lively hint of playful green pepper. I like that it adds bulk and color to the recipe without much spice.
TIP: ALWAYS use gloves when preparing chiles, even milder types like poblanos, and never touch your face while handling them.
Green Chile (Fresh or Canned)
Our favorite canned green chile is 505 Fire Roasted Hatch Green Chiles (because any southwestern-style recipe worth its salt uses green chiles) for the consistent medium spice level and roasty, earthy, smoky notes from the fire roasting.
Of course, you can add any fresh chiles you find at the store, but in this case, canned chiles save a step of prep in seeding and chopping.
Chipotle Chiles in Adobo Sauce
Finally, chipotle chile in adobo. These bad boys are like cloves or red curry paste: a little goes a long way. With humble beginnings as dried and smoked jalapeno chiles, they are rehydrated, canned, and steeped in an adobo sauce made up of tomato, vinegar, and garlic for a heady dose of spice.
Chipotle peppers in adobo add a unique, deep, dark complexity and mouth-watering smoky spice to anything they touch. It's the secret ingredient in our Kung Pao Chicken too!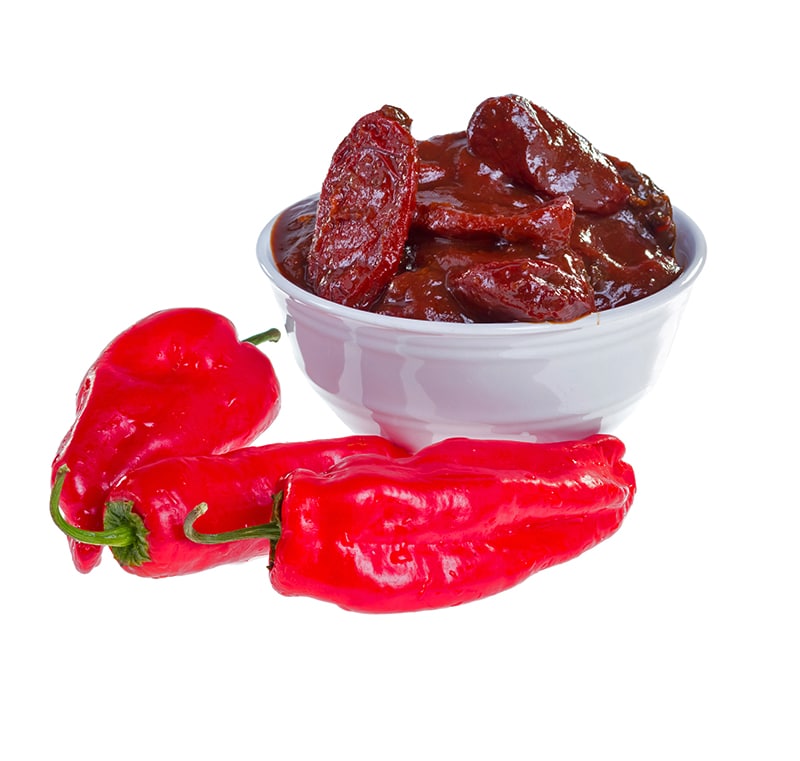 Is this recipe spicy?
The spice level for the recipe, as written, is med-hot. To tone down the spice, start with little to no chipotle chiles in adobo. They are the spiciest part of the recipe, and a little bit goes a long way.
Add a teaspoon's worth of the diced chipotle chiles at a time, stir well and let it simmer for 5 minutes, then taste to gauge the spice level.
TIP: Leftover chipotle chiles in adobo can be frozen for 3-6 months to use in other recipes.
You will also get heat from the hatch chiles, but these are not nearly as spicy. If you are truly averse to spice, you can adjust the levels of each pepper to your preferred level but maintain similar ratios, increasing the poblanos or even using green bell pepper instead of the chipotle or green chiles.
If you DO want a blast of spice, add more chipotle chiles in adobo, sub in fresh jalapeno or serrano chiles for part of the poblano, or add fresh slices of other hot chiles as a garnish. For more information about the heat level of chiles, check out our Green Chile Burgers post.
NOTE: Garnishes like sour cream or avocado also help to tone down the spice.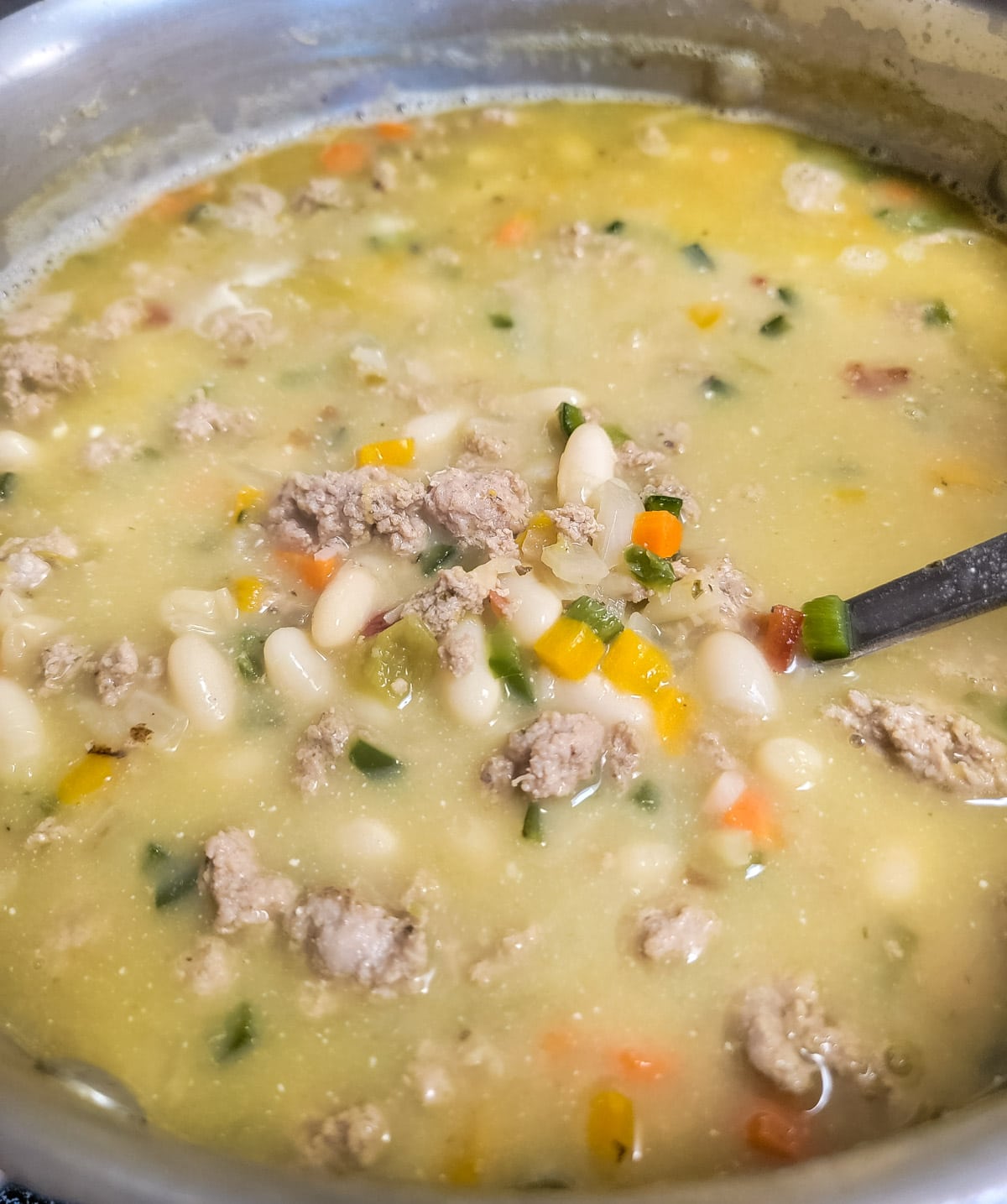 What kind of turkey do I use?
Ground turkey is preferable to make this recipe read like a traditional chili. Ground turkey can be dry, bland, and mealy on its own. However, that melds perfectly with the big flavors coming from the spices and peppers in the chili, and the broth keeps the texture juicy and tender.
Turkey is a great budget protein. If you have turkey leftovers after the holiday, they are also perfectly acceptable for this recipe. I would recommend doing half and half, combining the leftovers with a pound of ground turkey, to maintain that chili texture. Dark meat, if possible, but not necessary.
Ground or pulled pork, sausage, or chicken work just as well in this recipe, so feel free to get creative and use what you have.
Turkey Chili Step by Step
Saute the onions
Brown the turkey with the onions, garlic, and spices
Add the chilies, carrots, and bell pepper; cook for 5 minutes
Stir in the beans, stock, and liquid smoke; simmer for 20-30 minutes
Finish with cream and serve
Can I make this ahead of time?
Yes. Like most soups, Turkey Chili freezes well, so I recommend making a big batch and freezing it.
Recipe Variations
Substitute 4 cups of leftover cooked turkey for the ground turkey—add the turkey with beans in STEP 4
Any combination of toppings like avocado, favorite cheese, chopped cilantro, scallions, sour cream, crumbled tortilla chips, or fresh chilies.
Add corn, hominy, or rice for some of the turkey meat to mellow the spice, and add a bit of carb content, should you want it.
Substitute sour cream for the heavy cream
Substitute crushed red chile flakes for the chiles in adobo
Use chicken, pulled pork, or turkey leftovers in place of the ground turkey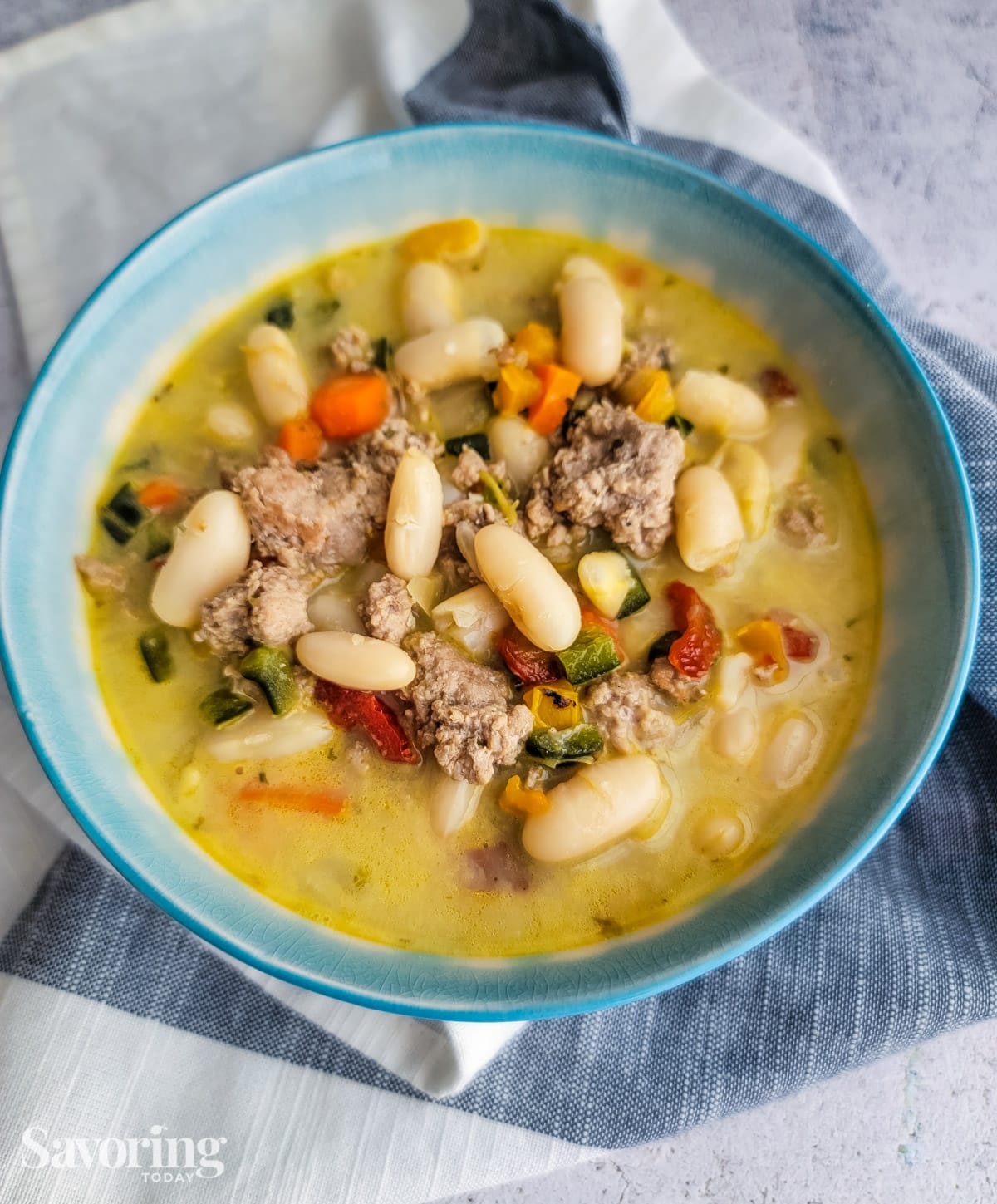 Ways to make the recipe Dairy-Free
Reserve one cup of the beans and puree them before adding them to the soup
Combine 3 tablespoons masa flour with enough water to create a thin paste, then stir into the chili
Omit the cream and cheese or substitute non-dairy alternatives
White Turkey Chili
A hearty white chili with ground turkey, a trio of chiles, and cannellini beans.
Ingredients
2

tablespoons

olive oil

1

large

sweet yellow onion

chopped

2

pounds

ground turkey

or 4-5 cups cooked turkey

6

cloves

garlic

minced

1

teaspoon

sea salt

1

teaspoon

freshly ground pepper

1

tablespoon

dried oregano

1

tablespoon

ground cumin

1

teaspoon

ground coriander

2

whole

poblano peppers

diced (about 2 cups)

1 1/2

cups

diced green chiles

505 brand fire-roasted chiles

1

whole

chipotle chile canned in adobo

seeded and diced

1

large

bell pepper

diced

2

large

carrots

chopped

4

(15-ounce)

cans cannellini beans

drained, or 2 cups dried beans, soaked and cooked

2 1/2

quarts

chicken stock

(10 cups)

1

tablespoon

hickory liquid smoke flavoring

1/2

lime

(optional)

1

cup

heavy whipping cream
Optional Chili Toppings (per 4 servings)
1

large

avocado

cubed

1

cup

cheese

1/2

cup

chopped fresh cilantro

1/2

cup

sour cream

1/2

cup

chopped scallions
Instructions
Heat oil in large soup pot over medium heat and cook the onion 6-8 minutes or until it begins to brown and caramelize at the edges. Add the turkey and garlic to the skillet with the onions and season with the oregano, cumin, coriander, salt and pepper. Cook the turkey over medium heat gently stirring only enough to turn and brown trying not to break it up too much. (Ground turkey is somewhat dry and crumbly so it's best to not stir it much so it stays in bite-size chunks.)

Gently stir in the poblanos, green chiles, chipotle chiles in adobo, bell pepper, and carrots. Cook for 5 minutes to meld flavors and soften vegetables.

Add the beans, chicken stock, liquid smoke flavoring, and squeeze or lime (optional) to the pot and bring to a simmer for 20 minutes, or until the vegetables are soft and the flavors meld.

Stir in the heavy whipping cream and then taste to add more of the seasoning or canned chipotle chiles for more spice, if desired.
Notes
Recipe Variations
Substitute 4 cups of leftover cooked turkey for the ground turkey—add the turkey with beans in STEP 4
Any combination of toppings like avocado, favorite cheese, chopped cilantro, scallions, sour cream, crumbled tortilla chips, or fresh chilies.
Add corn, hominy, or rice for some of the turkey meat to mellow the spice, and add a bit of carb content, should you want it. 
Substitute sour cream for the heavy cream
Substitute crushed red chile flakes for the chiles in adobo
Use chicken, pulled pork, or turkey leftovers in place of the ground turkey
3 Ways to Make it Dairy-Free
Reserve one cup of the beans and puree them before adding them to the soup
Add 3 tablespoons masa flour with enough water to create a thin paste, then stir into the chili
Omit the cream and cheese or substitute non-dairy alternatives
Nutrition
Calories:
357
kcal
|
Carbohydrates:
16
g
|
Protein:
27
g
|
Fat:
21
g
|
Saturated Fat:
9
g
|
Polyunsaturated Fat:
2
g
|
Monounsaturated Fat:
8
g
|
Trans Fat:
0.01
g
|
Cholesterol:
85
mg
|
Sodium:
670
mg
|
Potassium:
712
mg
|
Fiber:
3
g
|
Sugar:
7
g
|
Vitamin A:
3053
IU
|
Vitamin C:
30
mg
|
Calcium:
136
mg
|
Iron:
2
mg