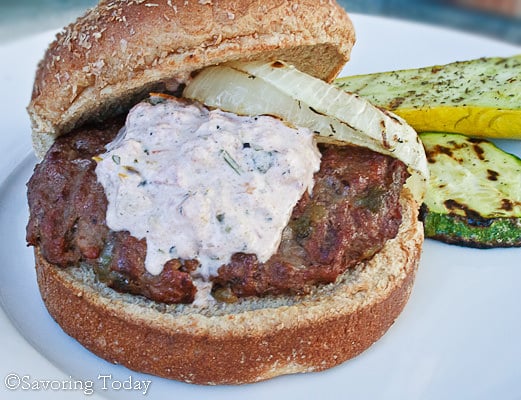 May is National Burger Month and Cinco de Mayo is as good a reason as any to partake in south of the border flavors this weekend.  Roasted Green Chili Burgers seemed like the ideal recipe to celebrate both and light the grill. Smoky chilies and cheese mixed right in the burger, topped with salsa mayonnaise and grilled sweet onions for a flavor explosion in every single bite. I can almost imagine the aroma of those chilies roasting right now. Oh, and you can bet we'll be enjoying the Sprouted Wheat Burger Buns stashed in the freezer!
The warm spring weather has whispered invitations of dining outside—according to my husband, everything tastes better outdoors—and this weekend looks like the perfect time to pull out the wintering chair cushions. What could be better than a massive bowl of guacamole, friends around the table, warm weather, and Roasted Green Chili Burgers on the grill? Okay, maybe a pitcher of margaritas and a salted glass … no blenders, please, only rocks will do.
Holidays and food themes do inspire, but around here, any day that ends in "y" is a good day to share good food.
How about you—are guacamole, spicy black beans, green chilies, fresh salsa, or burgers in your plans for the weekend?
Print
Roasted Green Chili Burgers with Grilled Sweet Onions
Yield:

4 - 1/3 lb burgers
---
Description
Smoky chilies and cheese mixed right in the burger for a flavor explosion in every single bite.
---
Ingredients
For the burgers:
3 whole chili peppers — jalapeno, Anaheim, or ancho, depending on your desired heat level — roasted and diced
1 1/3 pounds ground beef — 80/20 or 85/15
1 teaspoon chipotle chilies in adobo sauce — sauce only
2 ounces cheese — cut into 1/4″ cubes
1 teaspoon onion powder
1/2 teaspoon garlic powder
1/2 teaspoon smoked paprika
1/2 teaspoon sea salt
1/2 teaspoon pepper
For the sauce:
1/4 cup mayonnaise
1/2 cup salsa — drained
For the grilled onions:
2 large sweet onion — sliced 1/4″ thick
2 tablespoons extra virgin olive oil
salt and pepper
---
Instructions
To roast chili peppers, wash and dry peppers, slice in half and remove membrane and seeds. Place the peppers on a foil lined baking sheet, skin side up about 6 inches under the broiler in the oven and broil on high until well blistered and dark brown/black. Once roasted, place peppers in a plastic bag to steam, about 15 minutes. This helps loosen the skin, making it easier to remove. Remove skin before dicing peppers.
Gently mix ground beef with roasted chilies, adobo sauce, cheese, and dry spices until well blended. Pat into 1/3 lb burgers.
%http://savoringtoday.com/wp-content/uploads/2012/05/Roasted-Chili-Burger-mixed-burger-patty-1-of-1.jpg
Mix the mayonnaise and drained salsa together, set aside until ready to serve.
Lay sliced onion on rimmed baking sheet or large platter, drizzle with olive oil, then salt and pepper generously. Grill onions over medium heat until softened and lightly browned on both sides. Remove to a platter and cover with aluminum foil.
Grill burgers over high heat until seared well on both sides and cooked through, roughly 8-10 minutes. If there is room on the grill, toast buttered buns (butter side down) until toasted, while burgers finish. Otherwise, toast once burgers are done.
Serve the burgers on toasted buns with the sauce and grilled onions piled on top.
---
Notes
It is important to use plastic gloves when handling peppers. The type of chili pepper you choose will affect how spicy the burger is, as well as the type of salsa used in the mayo. I like to use mild salsa and spicier chilies so the mayo has a cooling effect. To really kick up the spice, add a whole pepper from the chipotle chilies in adobo in addition to the sauce. 😉
Want to grill a better burger? Check out these helpful hints from Grilling Companion.
Need more ideas for this weekend? Check out these links:
BunkyCooks Tortilla Soup
Kitchen Confidante's Margarita Bars
A Communal Table's Avocado, Tomato and Chile Lime Crouton "Salad-Tini"
Spicy Foodie's Roasted Turkey in Tomato Chipotle Sauce
One Perfect Bite's Chicken Tinga
Everyday Southwest's Spring Pea Guacamole
Sumptuous Spoonful's Black Bean, Corn, & Avocado Confetti Pizza
Shared on the Following Blog Hops:
Real Food Forager Fat Tuesday
Hearth & Soul Blog Hop