We take Pioneer Woman's Sloppy Joes to a whole new level with Caramelized Onion Sprouted Wheat Buns for one delicious sandwich!
The Story
Would you believe that last week was the first time I'd ever made Sloppy Joes?
If I am going to make a sandwich out of ground beef, my husband would much prefer a hamburger, hence no Joes, sloppy or otherwise.
Growing up in the Midwest, loose meat sandwiches were common, inexpensive, and filling, but not especially memorable. In fact, it was the school cafeteria variety we hoped to forget.
This type of food always reminds me of our favorite restaurant in Hannibal, The Frost Top, now known as the Mark Twain Dinette, where they served Made-Rites and root beer in a frosted mug.
Truth is, it was the root beer we loved, the sandwiches were just the ticket to the prize.
On a nostalgic whim, I called the restaurant to see if it was still as I remembered. The gal who answered was Missouri-style personable, asking where I lived now, telling me about the menu, wondering if we planned a trip back anytime soon (sometimes I miss that). They celebrated their 70th anniversary this last year and their menu is pretty much the same.
Loose meat sandwiches have been around since before World War II
Adding any number of vegetables or sauces to ground meat helped stretch the meal with hungry mouths to feed.
The no-sauce version was dubbed the Made-Rite, adding a ketchup based sauce turned it into Sloppy Joes. If there were ever a sandwich that needed a name, it is this one—no one wants a "loose meat sandwich".
Nostalgia aside, in The Pioneer Woman Cooks: Food From My Frontier, I liked the way she served it on buttered, toasted buns, which is brilliant.
With Caramelized Onion Sprouted Buns already in my freezer, I was ready to go.
Ree's Sloppy Joes recipe has a number of ingredients specified to taste, which is exactly what I would expect, as most folks would have an expectation that it taste a certain way.
Sweet, spicy, tangy, tomato-y, there is plenty of room for putting an accent on the flavor you like best (I used yellow bell pepper over green). The flavor of Caramelized Onion Buns is a perfect paring with a classic like Sloppy Joes.
How to Make Caramelized Onion Buns
We use our basic sprouted wheat burger bun recipe and fold in the amazing sweet-savory flavor of caramelized onions. We share the secrets we've learned working with sprouted flours to make healthier buns and sandwich bread that will make every sandwich or burger you make—better.
Three Keys to Making Light & Fluffy Sprouted Wheat Buns
Sprouted White Whole Wheat Flour. You absolutely can make this recipe with any sprouted whole wheat flour. However, I highly recommend the white wheat variety. White and red wheat have the same levels of nutrition, but white has a sweeter, mild (less wheat-y) flavor and produces a lighter texture in soft baked goods like rolls and pastries.
Patience. The trick is to be patient during the folding process and allow the flour to absorb the liquid in the recipe, and you may need to let it rise a little longer.
Resist the urge to to add more flour. The dough is sticky, so you'll be tempted to overcome the sticky-ness with more flour, but if you do that the finished product will be heavier and dry. Pay close attention to whether it is "holding its shape" as described in the recipe. Once the dough slump is minimal, it's time to switch from flour to oil.
Follow the techniques in our recipe video for working with sprouted wheat flour. The video demonstrates our rye buns, but the steps are the same.
Why is Sprouted Wheat Better For You?
Makes digestion easier

because sprouting initiates the digestion process, breaking down the complex sugars, and the vitamins and minerals more bio-available.
Improves glycemia (blood sugar) by lowering glucose response and increasing GLP-1 response. See Study.
Neutralizes enzyme inhibitors and reduces phytic acid (an anti-nutrient) that inhibits absorption of calcium, magnesium, iron, copper, and zinc.

Naturally manufactures

vitamin C, increases vitamin B, carotene levels, and minerals.
Sprouted wheat is a healthy whole food alternative to eating empty white flour carbs.
---
This post may contain affiliate links. For more information, please see our Disclosure Policy.
---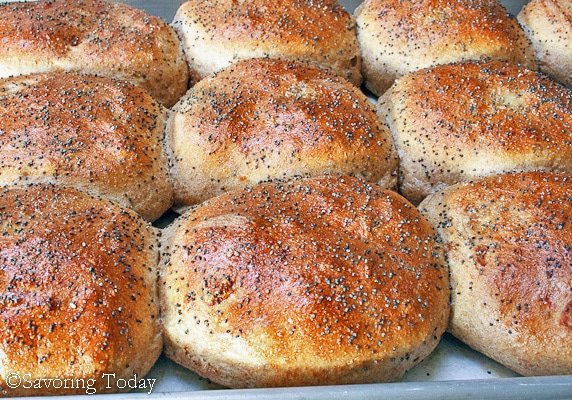 Caramelized Onion Sprouted Whole Wheat Buns
Caramelized onions bring a sweet-savory flavor to these buns that will complement any sandwich.
Ingredients
2

large

sweet onions

, sliced

2

tablespoons

olive oil

1/4

teaspoon

sea salt

1 3/4

cups

water

110-115°

1

(1/4 ounce package)

active dry yeast

1/4

cup

honey

2

tablespoons

melted butter

1

egg

1

egg yolk

2

teaspoons

sea salt

1

egg white

, reserved, lightly beaten

poppy seeds

, optional

avocado oil

, or extra-virgin olive oil
Instructions
Heat olive oil in a cast iron skillet over medium heat until oil covers the pan evenly and is hot. Add the sliced onions and stir enough to coat the onions with the oil. Continue to cook onions over medium heat, stirring occasionally until onions begin to brown, about

10 minutes

.

Season with salt and spread onions evenly over bottom of skillet, reduce heat to low. Cover and allow onions to gently caramelize for about

45 minutes

, stirring occasionally to ensure they brown evenly. Onions should be golden brown when done.

Once done, allow onions to cool enough to handle, then coarsely chop onions.

While the onions are cooking:

Using the paddle attachment, mix in the onions, 2 tablespoons butter, 1 whole egg, 1 egg yolk (reserve egg white), and 2 1/2 cups of the flour on medium-low speed until smooth. Drape with a towel and let dough rest for

20 minutes

.



Add 2 teaspoons sea salt and enough of the remaining flour (1/2 cup at a time), mixing 1 minute after each add, to form a soft, shaggy dough (up to 5 1/2 cups total - humidity can affect the amount of flour it will take).

Once the dough holds it's shape (though sticky) and is stable on the mixing paddle, spread 1/4 cup of flour out on the counter and sprinkle on dough. (See recipe video for demo.)

With floured hands, knead dough by folding over and turning 4 or 5 times to form a soft ball that holds its shape and no longer slumps. Scrape any remaining flour from the counter and spread 1 tablespoon of oil on the counter.

Leave the dough to rest on the counter and cover with a bowl for

5 minutes

. With oiled hands, fold the dough 4 or 5 times again, and cover with the bowl to rest again for 

5 minutes

.

Repeat one more time so the dough has 3 folding processes and 3 rests of 5 minutes each. This process allows the flour to fully hydrate.

TIP: Because the dough can be tacky, use a pastry knife to help the dough release from the counter rather than adding more flour, which will make the dough heavy.

While you shouldn't need to, at this point, if the dough is still is not holding its shape and is too wet to handle, add 2-3 tablespoons more flour and complete the folding process again with an additional 

5 minute

rest.

Otherwise, after the three folding/resting cycles, if the dough is forming a soft ball and is manageable with oiled hands, place the dough in an oiled bowl, turning over so the oiled surface it face-up.

Cover the bowl with plastic wrap and then a towel, and let it rise in a warm spot (above 70°) for 1 1/2 to 2 hours, or until nearly doubled in bulk. (The oven, with the oven light ON is a great place to let the dough rise if the room is cool.)

With oiled hands, punch down dough and divide it into 16 pieces on a lightly oiled surface (It is ideal to use a kitchen scale to measure the dough and then divide by 16 for the ideal weight of even bun).

Shape each piece into a round, smooth ball, place on a parchment-lined baking sheet, and flatten with the palm of the hand to about 3" across (it helps to have oil on your hands when flattening the buns). It is best if the sides of the buns touch when flattened.Cover with a lightweight smooth towel, tented aluminum foil, or inverted rimmed baking sheet if the room is drafty.

Let rise about

40 minutes

, or almost doubled in size. (Because the dough can be tacky, avoid covering with terry cloth or microfiber cloth towels, which can "grab" the top of the dough.)

Just before placing in the oven, brush the buns gently with the beaten egg white on all exposed sides, sprinkle with poppy seeds. Alternatively, brush with melted butter once the are baked and removed from the oven for soft, matte finish.

Bake the buns in a preheated 375°F oven until golden in color, about

16 to 18

, or until the internal temperature reaches 190°F using an instant-read thermometer. Cool the buns on a wire rack. Slice once completely cooled.
Video Displays Here or In Post
Notes
Recipe Tips:
The egg wash helps the seeds to stick and give the buns a shiny crust. Brush with melted butter for a soft, matte finish.
The weather and type of flour can have an impact on the feel of the dough and how tacky it feels. Avoid adding a lot of extra flour to the dough to make it more manageable. Instead, use a pastry knife to scrape and lift it when kneading or switch to an oiled surface and oil for your hands to manage the dough.
For high altitude, it may take less flour and a shorter rise time, closer to 5 cups of flour and one hour to rise. Yeast breads can be sensitive to humidity, so the amount of flour will vary.
For sandwich bread: Prepare dough as indicated. Lightly grease two 9 by 5-inch loaf pans with oil. Once dough has risen, divide dough and shape each loaf to fit in the loaf pan (the top side should be smooth). Allow to rise until doubled, 1 1/2 to 2 hours. If topping with seeds and oats, gently brush the top of the loaves with lightly beaten egg white and sprinkle with seeds of choice and whole oats. Bake the loaves together with equal space between the loaves and the sides of the oven at 375°F for 40 minutes, or until the crust should be golden brown and the loaf has a hollow sort of sound when tapped. If in doubt, use an instant read thermometer inserted in the center of the loaf to test. It should read 190°F when done. If the loaves brown too quickly, loosely cover with foil and continue to bake until done. Remove from oven and allow to cool 5 minutes before removing from pans. If the topping was not added, brush loaves with melted butter after removing from the oven for a soft, tender crust. Slide a sharp knife around the edges of the loaf to release from pan, if necessary, and turn loaves out onto wire cooling racks to cool completely. If you are going to freeze the loaves, slice before freezing to make it easier to remove a few slices at time.
For sliders: Divide dough into 32 even pieces. Shape each piece into a round, smooth ball, place on a parchment-lined baking sheet, and flatten with the palm of the hand to about 2-inches across (it helps to have oil on your hands when flattening the buns). It best if the buns touch when flattened. Cover with a lightweight smooth towel, tented aluminum foil, or inverted rimmed baking sheet if the room is drafty. Let rise about 40 minutes, or almost doubled in size. (Because the dough can be tacky, avoid covering with terry cloth or microfiber cloth towels, which can "grab" the top of the dough.) Continue with recipe instructions for egg wash and bake 14-16 minutes.
For hot dog buns: Gently roll the ball of dough between your hands and counter to create a 5 to 6-inch cylinder and tuck ends under to form a smooth shape with blunt ends. Do not flatten. Place closely together on the baking sheet, about 1/2 inch apart, so that the buns support each other as they rise and create soft open sides when turned to slice.
Equipment
Nutrition
Calories:
186
kcal
|
Carbohydrates:
32
g
|
Protein:
5
g
|
Fat:
4
g
|
Saturated Fat:
1
g
|
Cholesterol:
26
mg
|
Sodium:
241
mg
|
Potassium:
168
mg
|
Fiber:
4
g
|
Sugar:
5
g
|
Vitamin A:
80
IU
|
Vitamin C:
1
mg
|
Calcium:
20
mg
|
Iron:
1.5
mg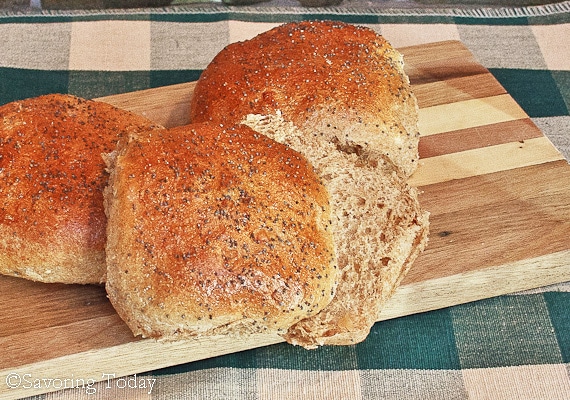 To read my full review of the book, visit this link: The Pioneer Woman Cooks: Food From My Frontier
More Sandwich Recipes You'll Love