Looking for an easy, healthy, and delicious weekday recipe? These Asian Sesame Chicken Salad Wraps are the go-to no-cook light lunch or dinner to keep that healthy vibe going.
Soft wraps filled to the brim with freshly chopped vegetable slaw, tender marinated chicken, crunchy peanuts, and tangy Asian dressing. A perfect make-ahead meal to fuel your day with satisfying, wholesome ingredients you can feel good about.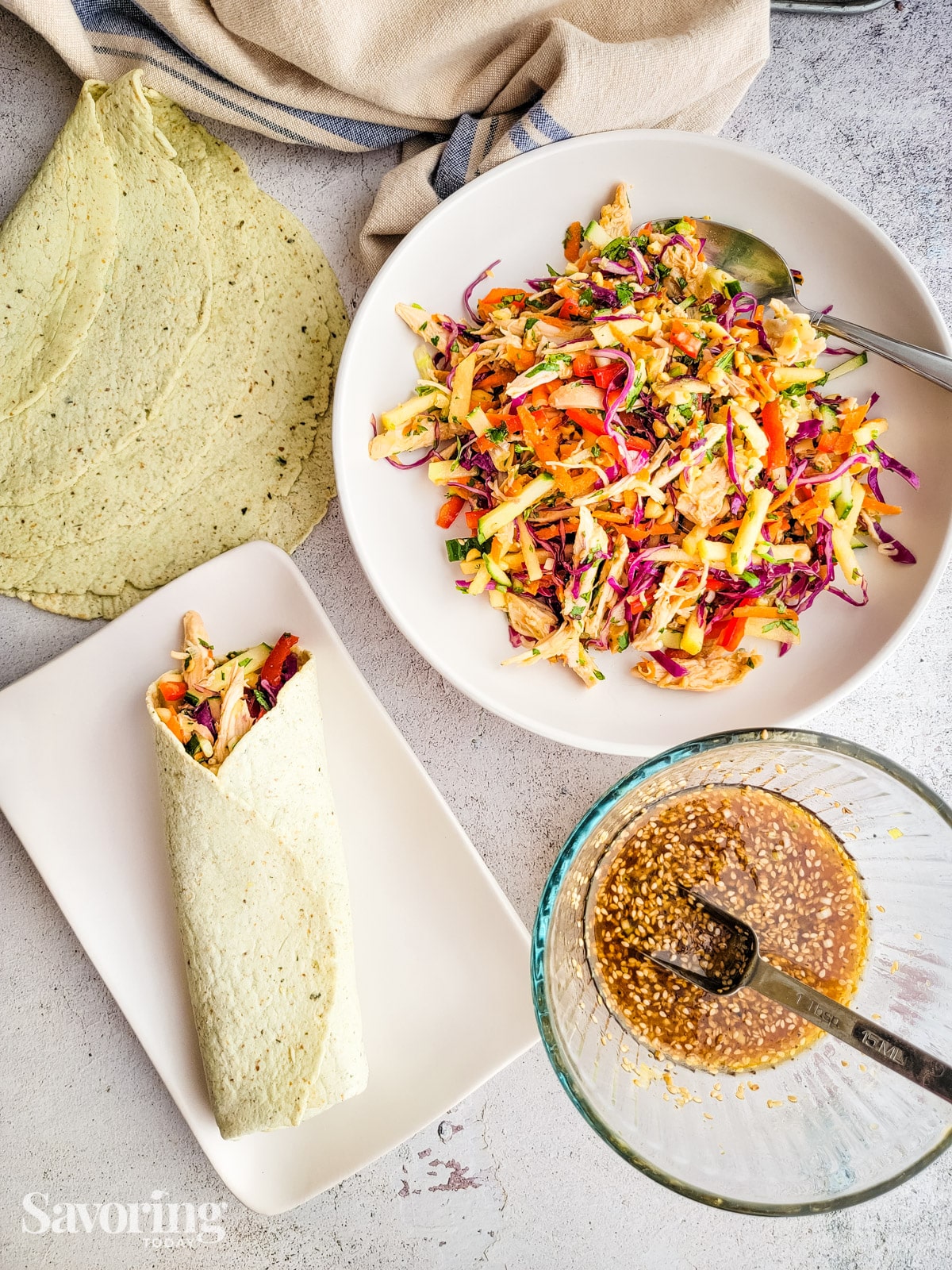 I love a salad as much as the next guy, but there's something about a salad wrap that really takes it to the next level. Is it freedom from the fork? Is it efficiency? Is it the perfect bite-ability?
Seriously, It's all three of those things.
Wraps are a great way to keep things interesting, add a little extra fiber to your meal, and are easy to pack and eat when you need something intentional and healthy while on the go.
This chicken wrap calls for a slew of crunchy vegetables and fruits cut into thin matchstick sizes for easy eating. Cabbage, green onion, red bell pepper for the ultimate crunch, apple and carrot for a touch of sweetness, cucumber and cilantro to elevate the freshness, and peanuts and chicken for protein.
We use rotisserie chicken to cut down on prep time since there's a little chopping to do with the veggies. I recommend cutting up enough vegetables to make a large batch for use throughout the week for lunches, afternoon fuel-me-up snacks, or any side dish you might fancy.
Once it is prepared, all you have to do is throw it into the wrap of your choice or enjoy it as a classic salad with the same Asian Sesame dressing.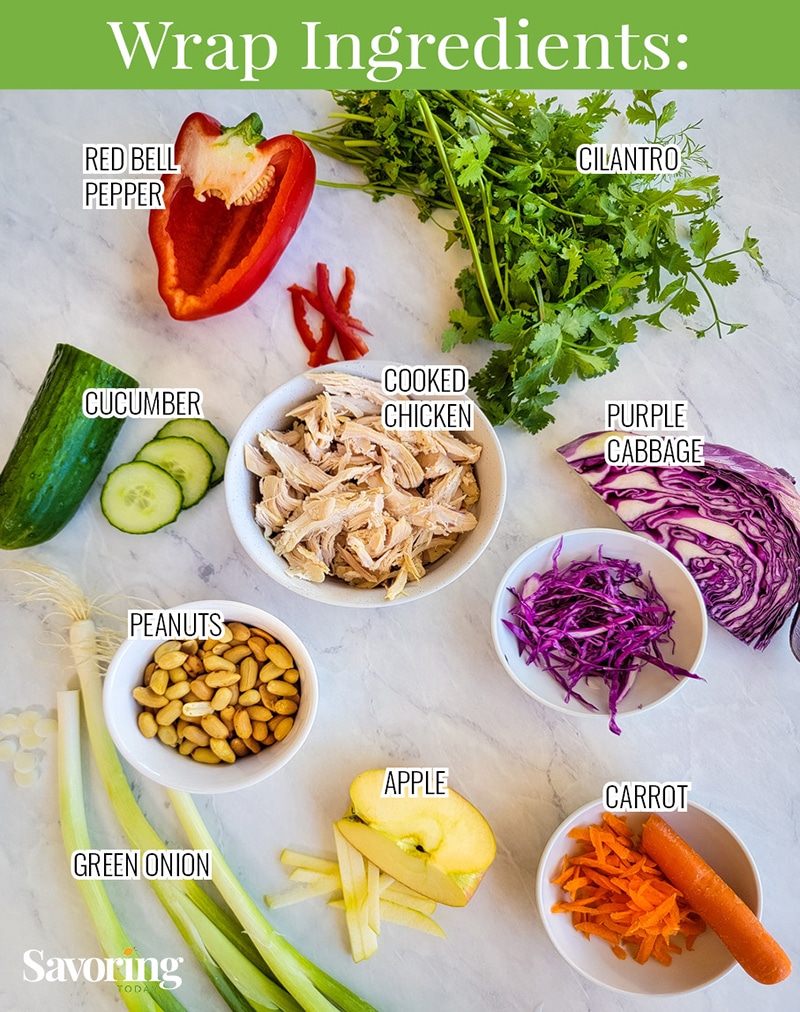 Asian Sesame Dressing Tops It Off
We are using a homemade dressing with this recipe, inspired by the perfect trio of Asian ingredients: soy sauce (salt), rice vinegar (acid), and sesame oil (fat). Honey brings balance and a hint of sweetness, while fresh ginger, garlic, and green onion keep it light and bright on its feet. 
Asian Sesame Dressing is great for all kinds of recipes, cold or hot. Making condiments at home gives you more control over what ingredients go into your dressings, as store-bought dressings often contain unhealthy oils or preservatives.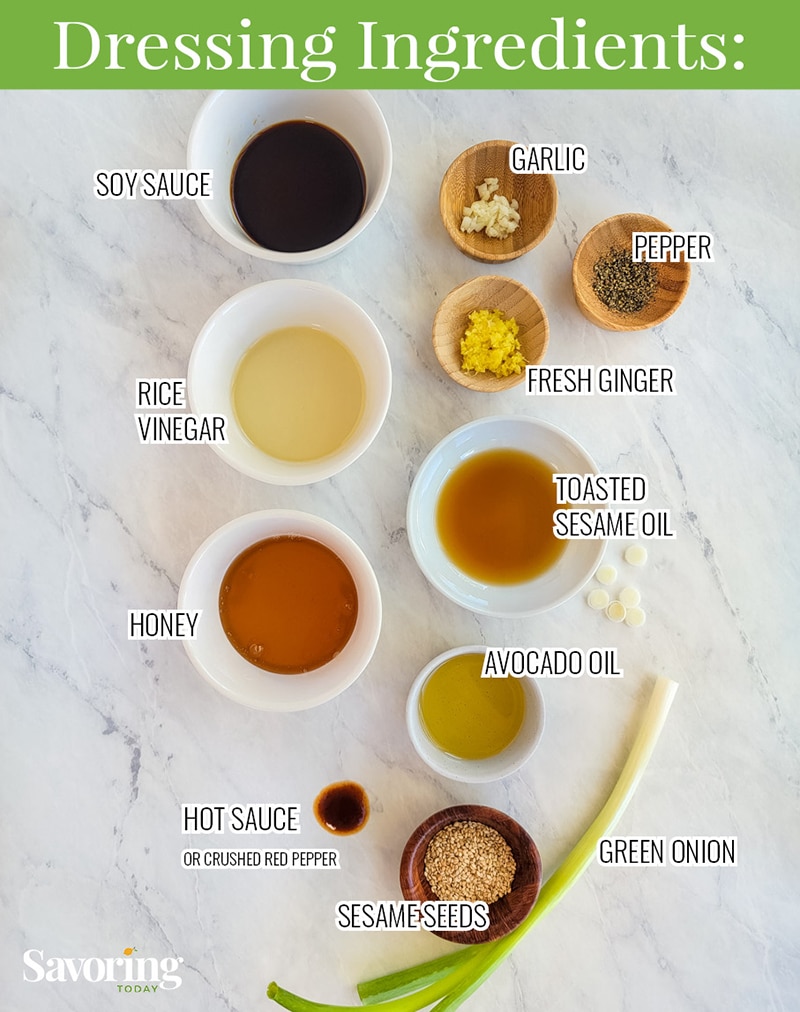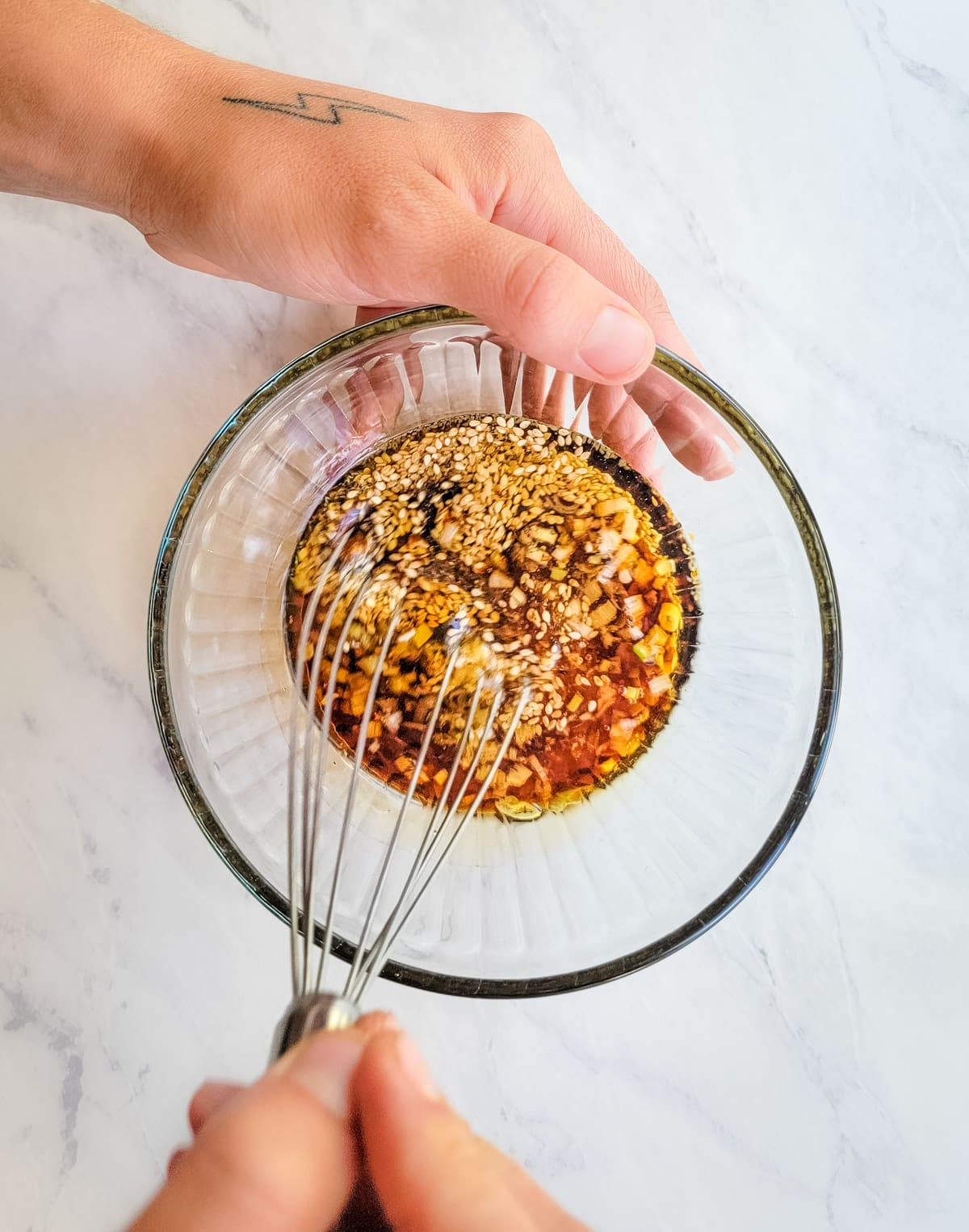 Can I make this ahead of time?
Make a batch and keep it refrigerated and without the dressing. It will be at its best when it's fresh, but the vegetables will maintain their crunch for up to 4 days. When you're ready, throw it in the wrap and enjoy.
TIP: Do not dress salads or wraps until the last possible minute. The acidity of the dressing will start to break down your wrap filling, leading to a less-crunchy result, AND it will make the wrap soggy. If you're headed to work, fold the wrap into a paper towel, store it separately from the dressing, and bring a small bottle/jar of the dressing on the side to apply when you are ready to eat.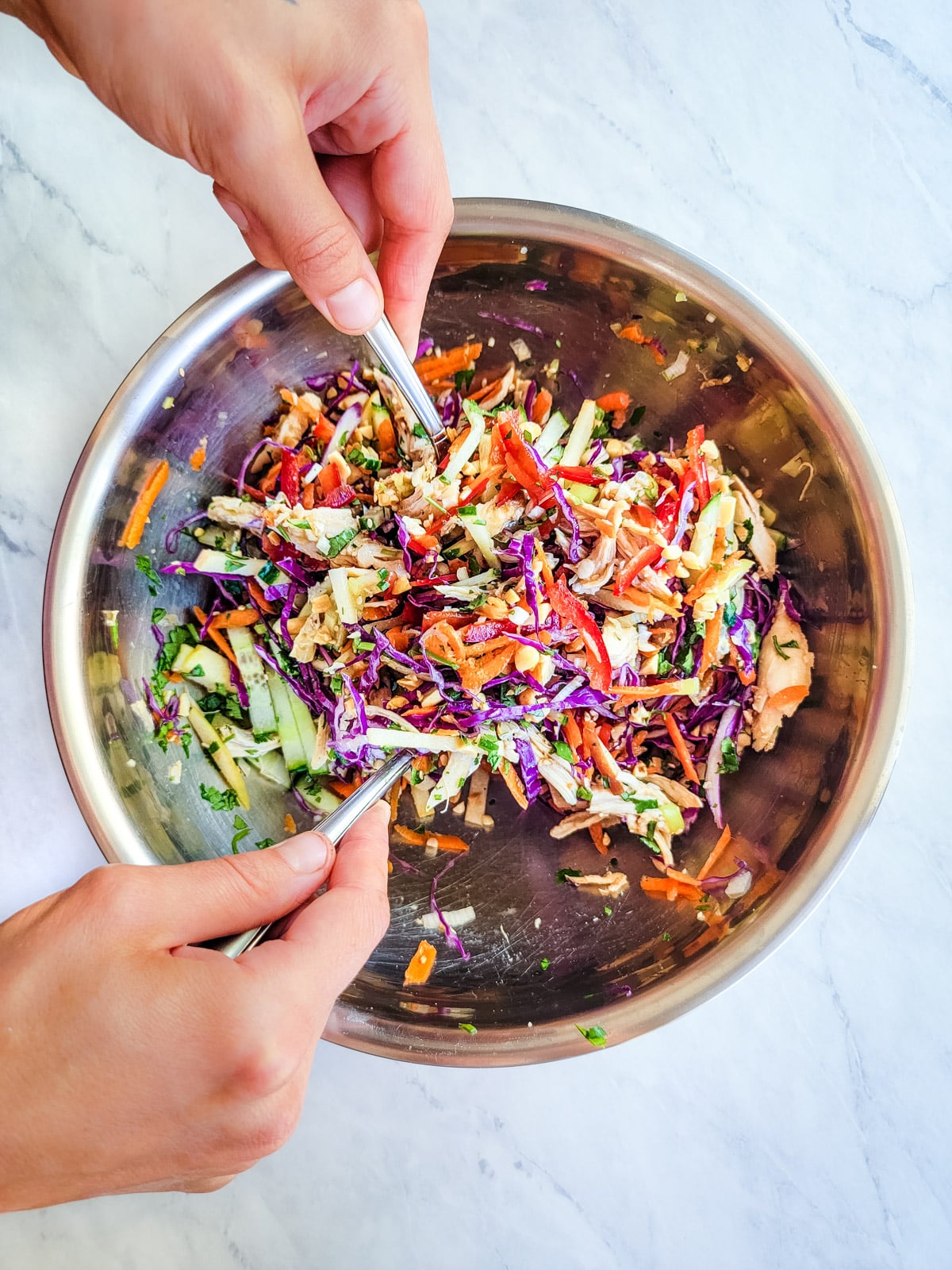 What kind of chicken to use?
I recommend making this recipe with rotisserie chicken because it is easy. To make 4 wraps, you only need a single cup of chicken, so it's ideal to use up leftovers. Of course, if you want to roast, grill, pan-sear, or boil chicken yourself, that is also a perfectly good option. 
What kind of wrap should I use?
So many options! While a standard flour tortilla would suit our needs here, don't be afraid to try other wraps. In this recipe, we'd use a low-carb tortilla with spinach and flax seeds that were soft and bendable without being heated.
Fiber-rich flax, whole wheat, gluten-free, spinach-infused, seaweed, coconut, and multi-grain wrap options are all good choices.
Corn tortillas may break apart but are fine for a taco-like application. Read the ingredients and nutrition facts on the packaging to ensure you're supporting your meal balance the way you would prefer.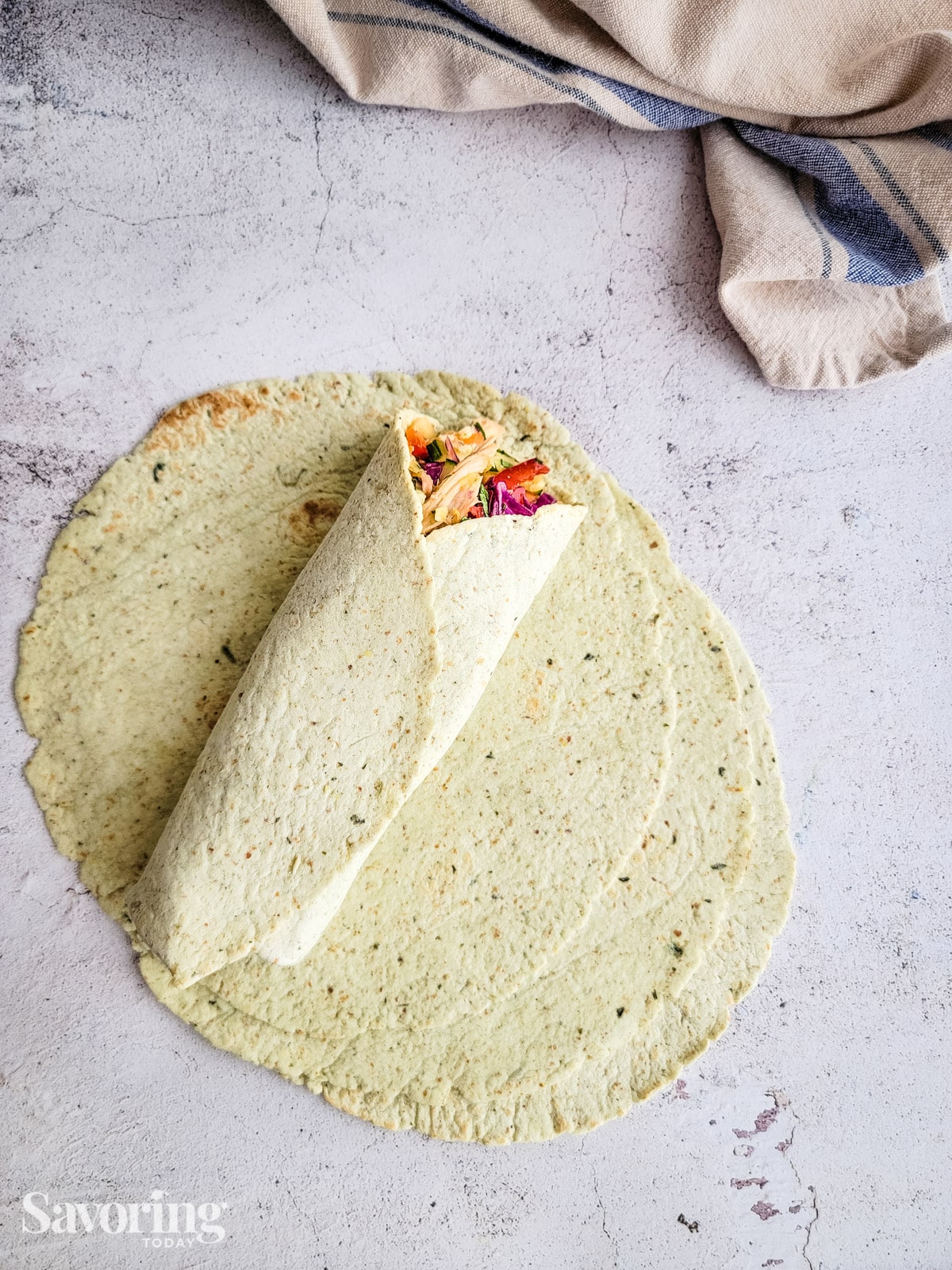 Can I use other vegetables or proteins?
The versatility of this recipe is boundless—I am always a fan of using what you have and not wasting food. So things like lettuce, spinach, artichoke, jicama, broccoli, mushrooms, cauliflower, bok choy, or jalapeno are all good so long as they match the texture of the other wrap ingredients.
Chicken suits this recipe the best, but thinly sliced beef, pulled pork, salmon, or even Chinese leftovers can easily sub in. 
How to make this Vegetarian?
To easily create a vegetarian wrap, replace the chicken with chickpeas or another favorite meat substitute. If you want something with a similar texture to the chicken, jackfruit or mushrooms like oyster or maitake are a great option as well.
I like the chickpeas option because it will provide more protein than the jackfruit or mushrooms, and doesn't need to be cooked, so you're saving a step. 
Here's how:
Place drained cooked chickpeas in a bowl and pierce several times with a fork.
Toss with 2-3 tablespoons of the dressing until well coated and set aside while prepping the remaining ingredients—follow the rest of the recipe as written.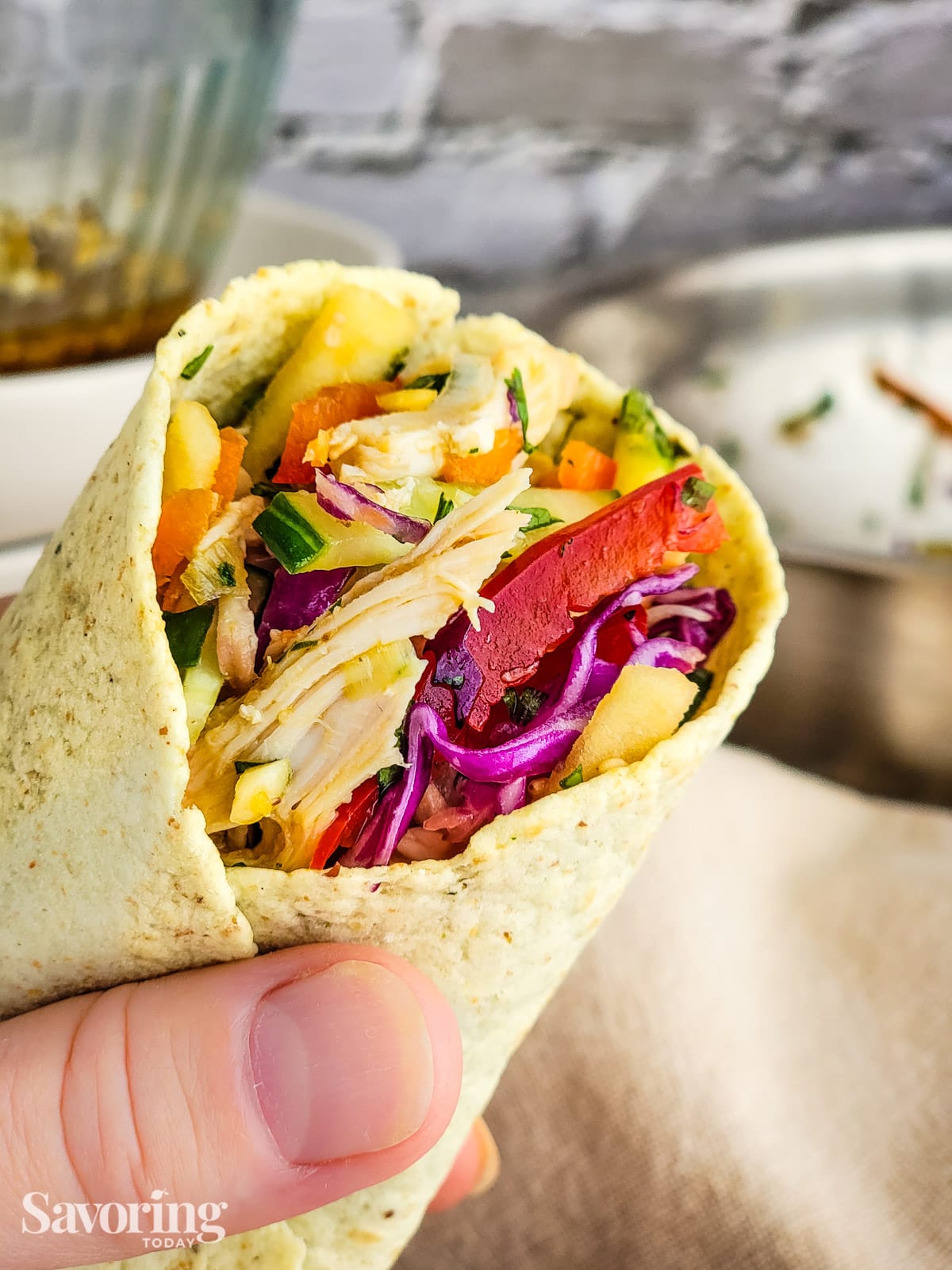 Recipe Variations
Serve as a salad for 2 or as a filling for spring rolls with peanut sauce instead of the dressing
Substitute sliced almonds or cashews for the peanuts
Substitute Mandarin oranges or jicama for the apple
Make it vegetarian with chickpeas or mushrooms
Make it gluten-free with GF tortillas and substitute Tamari for the soy sauce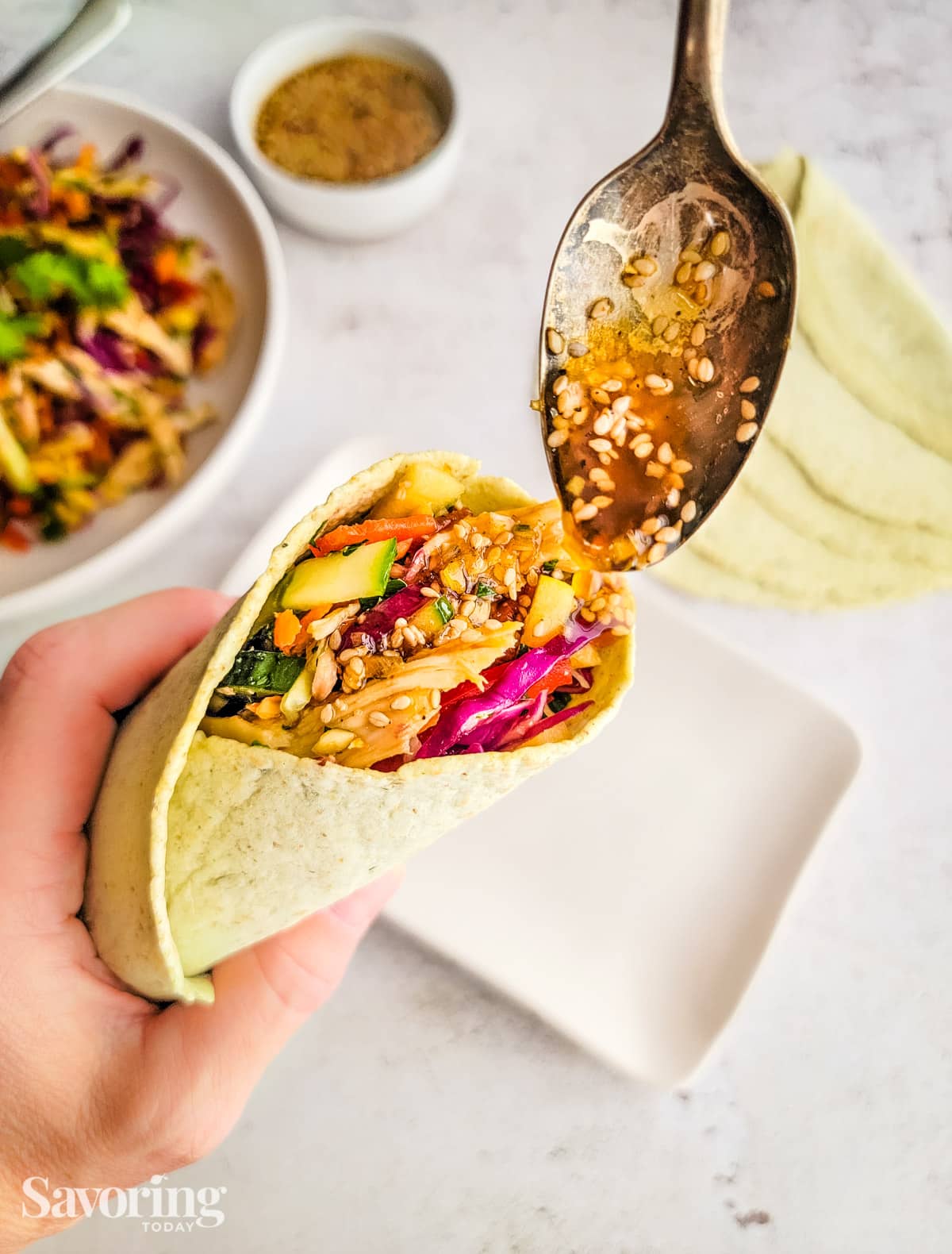 Asian Sesame Chicken Salad Wrap
Soft wraps filled to the brim with fresh vegetables, tender chicken, crunchy peanuts, and a robust, tangy Asian dressing.
Ingredients
FOR THE WRAP FILLING:
1

cup

rotisserie chicken

3/4

cup

purple cabbage

sliced thin

1/2

cup

shredded carrots

1/2

cup

honey crisp apple

cut into matchsticks

1/2

cup

cucumber

cut into matchsticks

1/4

cup

red bell pepper

cut into matchsticks

1/4

cup

chopped cilantro

or basil

2

tablespoons

chopped green onions

white and light green part

1/3

cup

chopped peanuts

4 8-

inch

tortilla or coconut wraps
FOR THE DRESSING:
2

tablespoons

avocado oil

or extra virgin olive oil

1

tablespoon

toasted sesame oil

3

tablespoons

rice vinegar

2

tablespoons

soy sauce

Tamari for gluten-free

1

tablespoon

minced green onion

(1-2 single onions) white and light green part only

1

tablespoon

honey

2

teaspoons

sesame seeds

1

teaspoon

grated ginger root

1/2

teaspoon

minced garlic

1/4

teaspoon

ground black pepper

1/4

teaspoon

hot sauce

or crushed red pepper
Instructions
FOR THE DRESSING:
Whisk the ingredients in a bowl or shake in a cruet until well blended.
FOR THE WRAP FILLING:
Marinate chicken in 2-3 tablespoons of the dressing while prepping the remaining ingredients. Toss all the salad ingredients together in a bowl.

Divide among the 4 wraps, arranging in a 2-inch wide strip in the center. Fold up the bottom edge and wrap the two sides in overlapping one over the other (one end stays open) so it's easy to hold. Serve with dressing to spoon on, as needed.
Notes
Nutrition values do not include wrap as every product is different.
Nutrition
Calories:
329
kcal
|
Carbohydrates:
14
g
|
Protein:
22
g
|
Fat:
22
g
|
Saturated Fat:
4
g
|
Polyunsaturated Fat:
5
g
|
Monounsaturated Fat:
9
g
|
Cholesterol:
57
mg
|
Sodium:
781
mg
|
Potassium:
297
mg
|
Fiber:
3
g
|
Sugar:
8
g
|
Vitamin A:
3321
IU
|
Vitamin C:
25
mg
|
Calcium:
47
mg
|
Iron:
1
mg