This quick, easy recipe for Whole Wheat Chive Buttermilk Drop Biscuits takes just 10 minutes to put together and 10 minutes to bake.
You'll love the soft, fluffy crumb and crisp outside edges with every buttery bite for a healthy, satisfying biscuit that elevates any meal.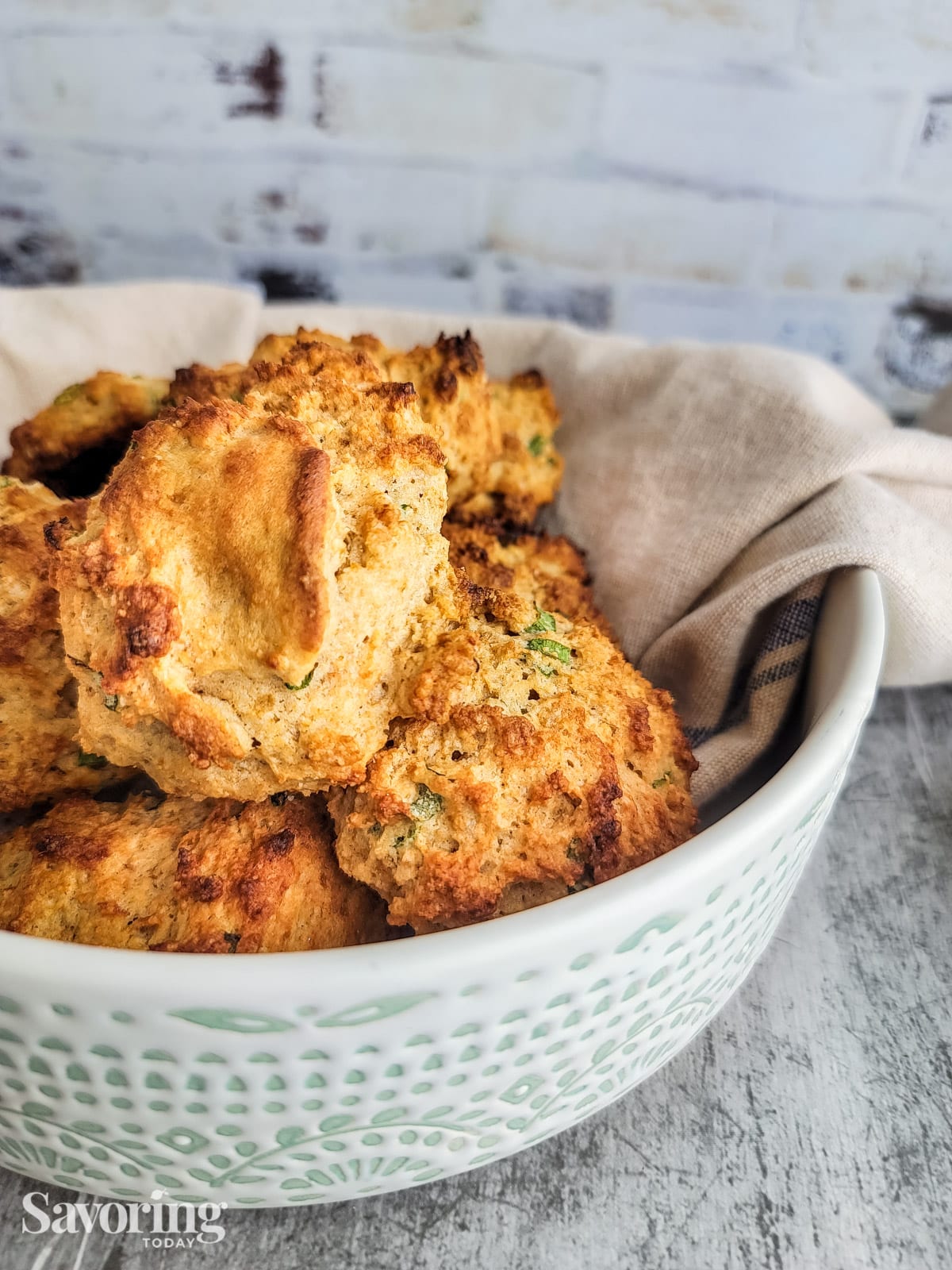 Who doesn't love a biscuit? Food with many jobs, biscuits serve as a delightful, satisfying side with dinner, soup-sopper extraordinaire, gravy's best friend, the ultimate companion for quality butter and jam, and a reliable sidekick for cleaning up sunnyside eggs. 
A fresh take on a well-loved bake, these buttermilk drop biscuits are made with the same butter-influenced build with whole wheat goodness and without the fuss of rolling dough.
No special steps are required, no rolling nor cutting, drop biscuits are exactly what they sound like: scooped up and dropped as-is on the sheet pan. This irregular and almost ragged shape allows for maximum crisp edges (my favorite).
These whole wheat biscuit beauties come together in 20 minutes and while they do not have the same flakey layers as a traditional rolled biscuit, they are just as tasty and perfect for a quick dinner side.
We use chopped chives (or scallions) for a pop of savory, herbaceous flavor that will call everyone to the table with barely a whisper. (Ah, I can smell them baking right now!)
What is a drop biscuit vs a regular biscuit?
A standard biscuit uses very cold butter and the process of folding the dough over on itself to create layers of butter for a flakey texture, then cut out into round biscuits. Drop biscuits are mixed with softened butter, mixed by hand, dropped by the spoonful onto the sheet, and baked as is. 
Drop biscuits also have a touch of crispness to the exterior where the jagged dough browns more than a flat biscuit does. If you love that texture combo, these chive buttermilk biscuits will be a fast favorite!
We love both kinds and tend to prefer each for different applications. We like Rolled Biscuits for Skillet Turkey Pot Pie or bacon sandwiches, but these buttermilk drop biscuits are especially tasty with Creamy Cauliflower & Potato Leek Soup and faster to make on a whim.
What is the BEST Whole Wheat Flour to use for Biscuits?
We prefer sprouted whole wheat flour in all our baking recipes. Sprouted wheat is easier to digest and produces a softer crumb than regular whole wheat flour.
If we don't have sprouted wheat, our second choice is white whole-wheat flour. Specifically, white whole wheat bakes up lighter and is less wheat-y tasting than red winter wheat, so it's our go-to if sprouted isn't available.
You can substitute white whole wheat flour for sprouted wheat 1:1 as both flours respond similarly to the amount of liquid called for in this recipe. 
We've got loads of sprouted wheat info throughout the site because we love baking with it. If you want to learn more about sprouted wheat, its health benefits, and where to buy it, check out our Sprouted Wheat Cinnamon Rolls post.
TIP: AP flour and whole wheat flours absorb moisture differently. When using regular all-purpose as a substitute for whole wheat, reduce the buttermilk by a couple of tablespoons. If it still seems dry, add a tablespoon at a time just until the flour is moist and the dough pulls away from the sides of the bowl. Note: The dough should be shaggy and soft but not soupy.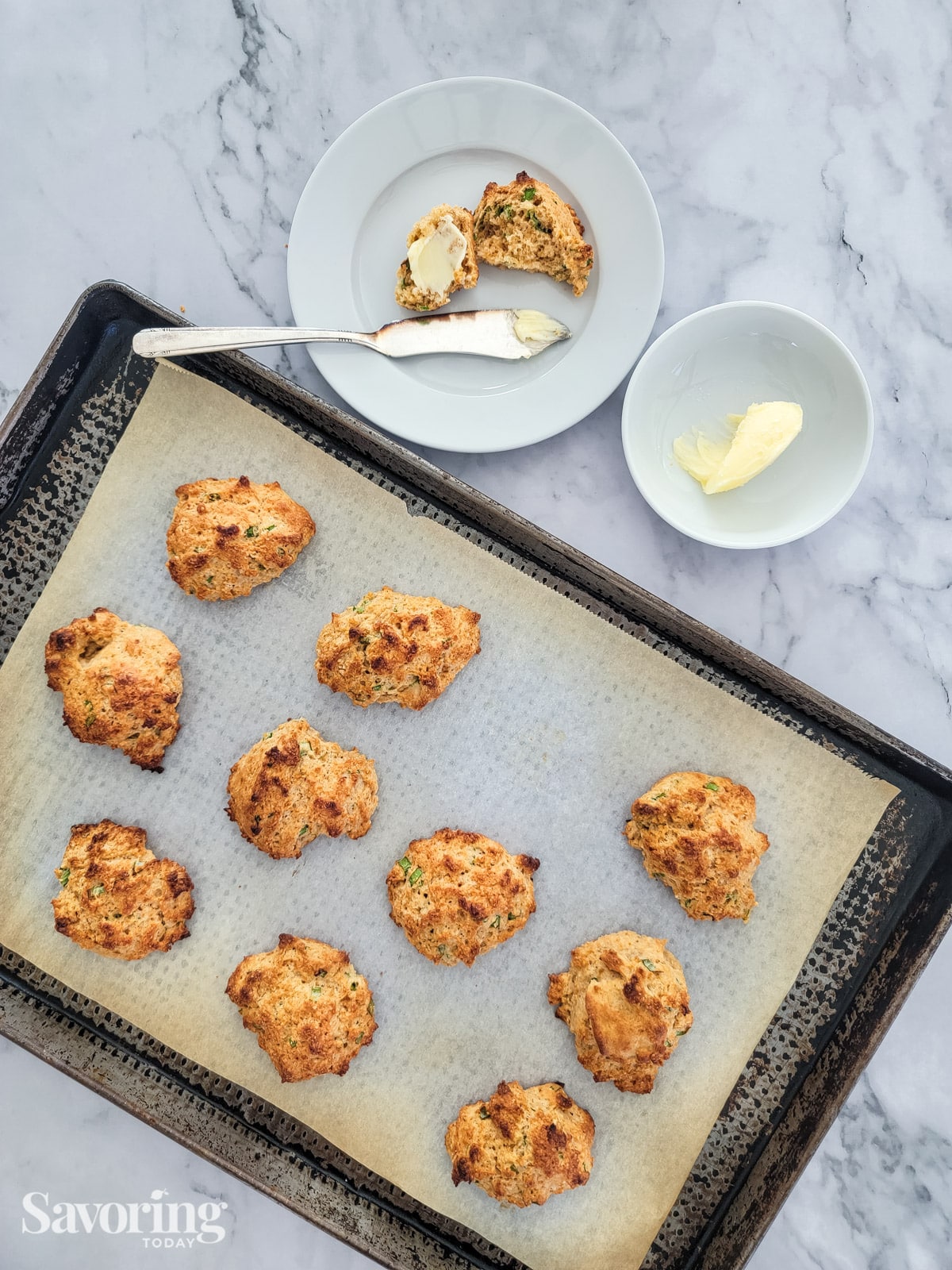 How does buttermilk affect biscuits?
Buttermilk's acidity, in tandem with baking soda and baking powder, helps biscuit dough rise. Baking powder is activated by liquid and the oven heat, while the acid from the buttermilk reacts to the baking soda—carbon dioxide produces that extra lift.  
What if I don't have buttermilk?
While buttermilk is best for making biscuits, if you don't have any on hand, use 1 cup of regular milk and add 1 tablespoon of white vinegar or fresh-squeezed lemon juice to it. You shouldn't be able to taste the flavors of fresh lemon juice or vinegar, but you can also use another soured dairy if you prefer.
4 Substitutions for 1 cup of buttermilk:
1 cup of milk and 1 tablespoon of fresh lemon juice or vinegar
⅔ cup yogurt (full fat OR skim) + ⅓ cup milk
½ cup sour cream + ½ cup milk
½ cup creme Fraiche + ½ cup milk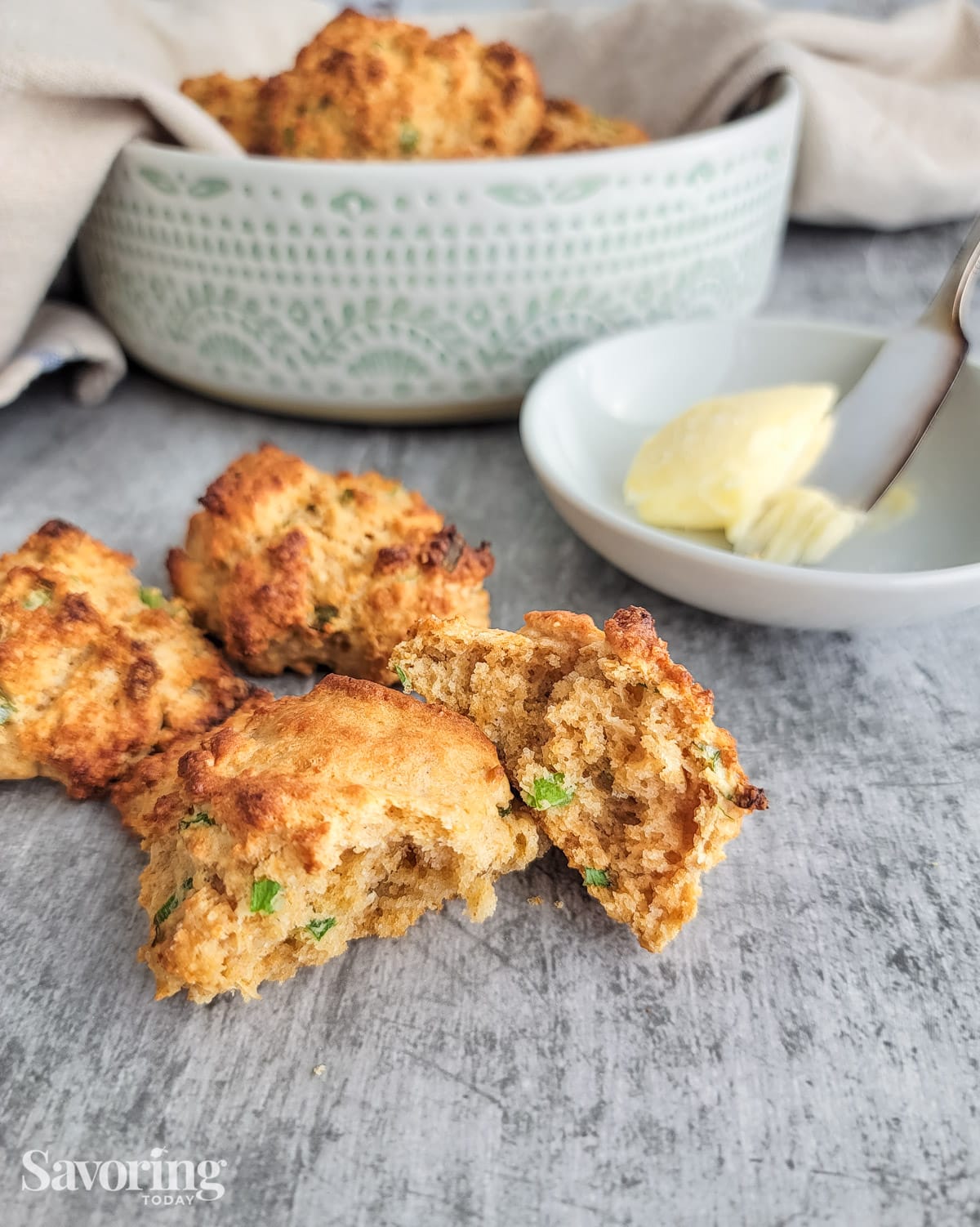 Recipe STEP BY STEP
Whisk dry ingredients together
Mix in the butter using your fingers to press it into the flour
Stir in the chopped scallions/chives
Stir in the buttermilk until the dough pulls away from the side of the bowl
Bake 12-14 minutes at 450°F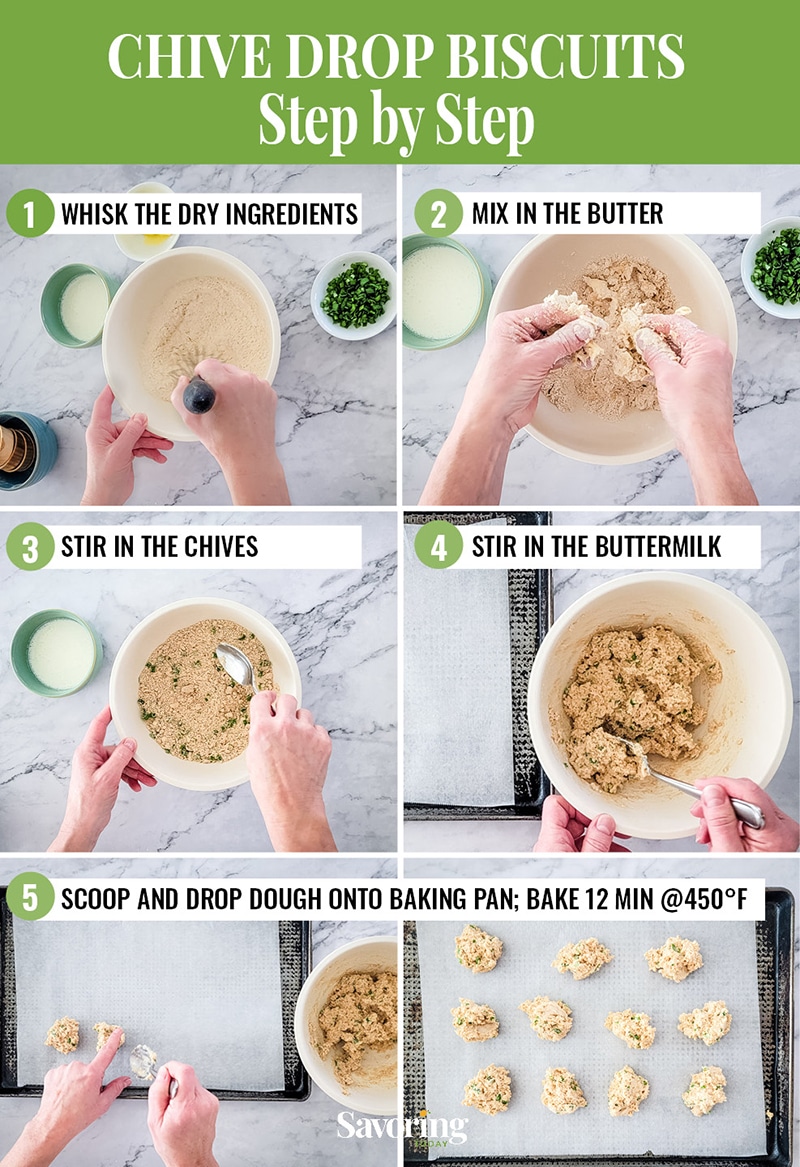 Can I freeze a batch of drop biscuits?
You can freeze the already-baked biscuits once they are completely cooled in a zip-type freezer bag for up to 30 days. In fact, this is a perfect example of a make-one, freeze-one type recipe that I teach in my Monthly Meal Prep Course.
To reheat drop biscuits properly, defrost and brush them with a little butter; reheat in an oven or air fryer at 350°F for 3 minutes. You can warm biscuits in a microwave for 20 seconds, but you'll lose the crispness in the edges.
TIPS and Variations:
Substitute cheese, jalapenos, caramelized onions, fresh herbs, or cooked bacon or ham for the chives.
Substitute buttermilk with ½ cup milk and 1 teaspoon fresh lemon juice
Substitute all-purpose flour for the whole wheat 1:1 and also reduce the amount of buttermilk by 1-2 tablespoons.
Freeze leftover biscuits in a zip-type freezer bag for up to 1 month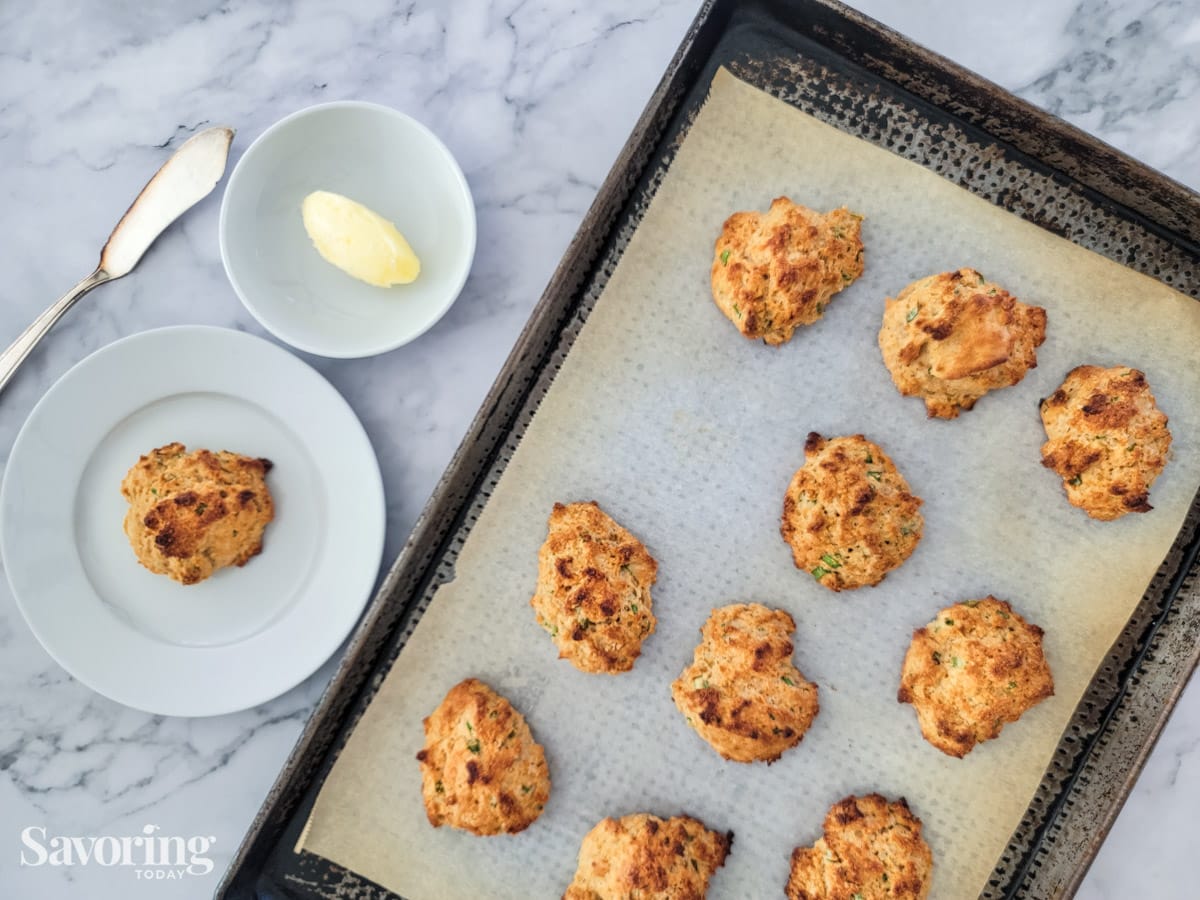 More Sprouted Whole Wheat Recipes You'll Love
Whole Wheat Buttermilk Drop Biscuits with Chives
Soft, fluffy crumb and crisp outside edges with every buttery bite for a healthy, satisfying biscuit that's quick to make!
Ingredients
1

cup

sprouted whole wheat flour

or white whole wheat flour

1

teaspoon

baking powder

1/4

teaspoon

baking soda

2

teaspoons

coconut palm sugar

or 1 teaspoon regular brown sugar

1/4

rounded teaspoon

sea salt

4

tablespoons

butter

softened

1/4

cup

chopped fresh chives

or 2 tablespoons scallions

1/2

cup

buttermilk

low fat or whole
Instructions
Heat oven to 450°. Whisk flour, baking powder, baking soda, sugar, and salt into a bowl.

Add butter and rub the butter into the flour mixture with your fingers or a fork.

Add the buttermilk and stir until just incorporated and the batter pulls away from the sides of the bowl.

Using a tablespoon, drop a heaping scoop of the dough onto a parchment-lined baking sheet about 2-inches apart.

Bake until the tops are golden brown and crisp, 10 to 12 minutes. Transfer to a wire rack and cool for 5 minutes.
Video Displays Here or In Post
Notes
TIPS and Variations:
Substitute cheese, jalapenos, caramelized onions, fresh herbs, or cooked bacon or ham for the chives.

Substitute buttermilk with ½ cup milk and 1 teaspoon fresh lemon juice

Substitute all-purpose flour for the whole wheat 1:1 and also reduce the amount of buttermilk by 1-2 tablespoons.

Freeze leftover biscuits in a zip-type freezer bag for up to 1 month
Nutrition
Calories:
183
kcal
|
Carbohydrates:
20
g
|
Protein:
4
g
|
Fat:
10
g
|
Saturated Fat:
6
g
|
Polyunsaturated Fat:
1
g
|
Monounsaturated Fat:
3
g
|
Trans Fat:
0.4
g
|
Cholesterol:
27
mg
|
Sodium:
176
mg
|
Potassium:
209
mg
|
Fiber:
3
g
|
Sugar:
2
g
|
Vitamin A:
409
IU
|
Vitamin C:
1
mg
|
Calcium:
75
mg
|
Iron:
1
mg