A super easy condiment, grilled sweet onions with just a little olive oil and simple seasoning deliver on smoky-sweet goodness all summer long.
With grilling season in full swing, the grill and deck become an extension of our kitchen and dining room. Summer's warmth is brief here in Colorado, so most evenings you'll find us preparing dinner outside. 
We love grilling steaks, chicken, and fish, but there is always room on the grill for the season's finest produce. Grilled sweet onions have become a staple companion to any other meat or vegetable we may be preparing. 
If we happen to have any leftovers, I use them in sauces, soups, burgers, or on sandwiches for lunch.
Mayan Sweets, Vidalia, Walla Walla, Sunbrero, Imperial Valley Sweets, Super Sweets, and Maui onions are the most widely known.  Less pungent than regular onions, their mild, sweet flavor is due to their low sulfur and high water content.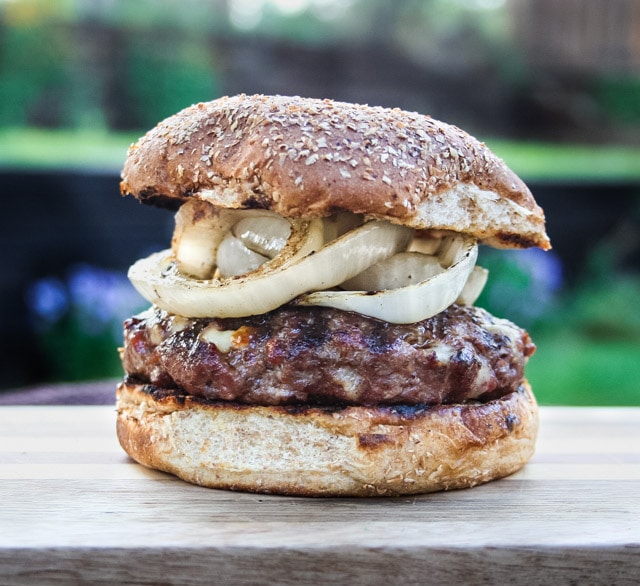 Although you can use sweet onions in just about any recipe that calls for onion, our favorite way to prepare them is on the grill. 
Pile them on top of burgers, steaks, fish, and chicken breasts, or mix them into sautéed vegetables—it's all good. Grilling sweet onions makes summer that much sweeter.
More Grilling Recipes You'll Love
Grilled Sweet Onions
Sweet and savory onion grilled for earthy, smoky flavor.
Ingredients
Instructions
Peel the onions, slice off the ends, and cut into 1/4 inch thick slices. Drizzle with olive oil, salt, and pepper. Let set for a few minutes so the oil can seep through the onion to oil both sides.

Place discs of onions directly on grill grates over med-high direct heat on a gas grill or directly over hot coals. Onions can also be placed on a grill pan for easier containment. Once browned and caramelized on one side, carefully turn over with a spatula or tongs and brown other side.  When done, transfer grilled onions to a platter and keep warm until ready to serve.
Equipment
Nutrition
Calories:
115
kcal
|
Carbohydrates:
12
g
|
Protein:
1
g
|
Fat:
7
g
|
Saturated Fat:
1
g
|
Sodium:
13
mg
|
Potassium:
197
mg
|
Fiber:
1
g
|
Sugar:
8
g
|
Vitamin A:
2
IU
|
Vitamin C:
8
mg
|
Calcium:
33
mg
|
Iron:
1
mg