Aside from its ease, my favorite part of making this Pear and Goat Cheese Appetizer is the fragrance of the honey and balsamic as it hits the hot dish.
Don't get in a hurry, be ready to savor the aroma with the first drop.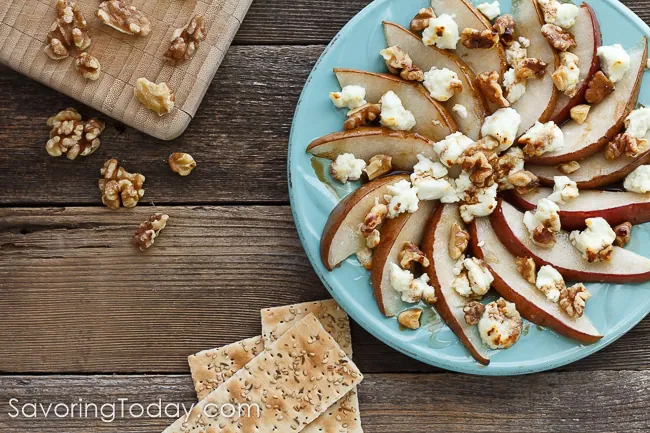 This appetizer is so easy to put together, it hardly requires a recipe, but I've provided one as a guide for oven temp and timing.
The measurements are approximate—in my opinion, more goat cheese is always better—so use your eyes more than your scale. Serve with gluten-free crackers or crusty bread for special dinners, parties, or any excuse to nosh and linger.
An Easy Date Night Appetizer
It was Valentine's Day, and instead of wrangling a reservation in a cramped restaurant we spent time planning a menu, shopping, and cooking together. Maple Lacquered Duck Breast was our main course, so we wanted a starter that was easy, yet elegant.
We were in search of fresh figs for our appetizer which were woefully out of season in February. It's hard to beat the enchantment of figs for indulging in simple pleasures. But alas, there were no figs.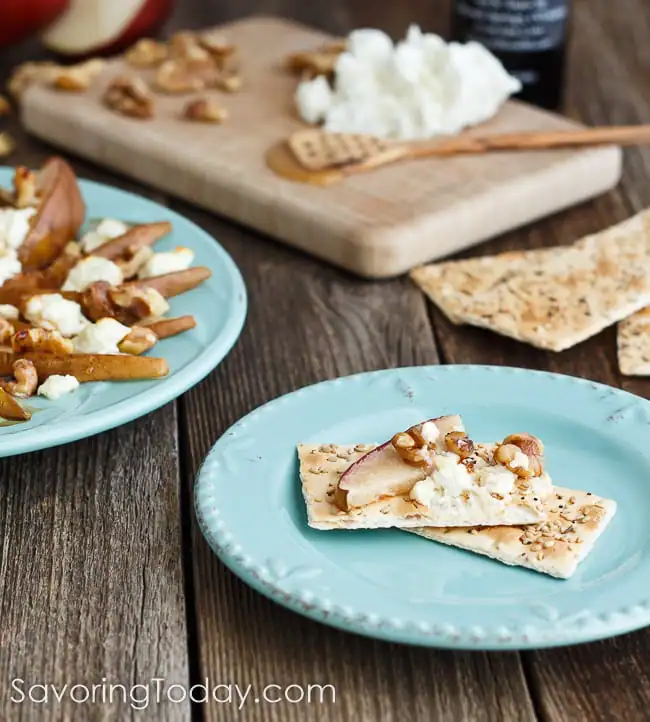 Pear is an Excellent Substitute for Figs
Pear is similar to figs in their voluptuous shape and uniquely textured flesh, but more widely available and easier to budget. While figs may seem more romantic, the humble pear can certainly work its own magic.
Pour a glass of white Bordeaux
 and enjoy a supple, ripened pear from the hand of your sweetheart … well, you get the idea.
For this appetizer, you won't want the pear to be as ripe as one you'd eat out of hand. Rather, choose one more firm to the touch and let the heat of the oven soften and sweeten it.
Like fresh figs, heat softens and concentrates the flavor of pears, creating a mild canvas for sweet or savory dishes. Warmed pears complement any cheese with a little spunk—goat cheese, Blue cheese, or semi-soft, raw milk cheese is best.
Here, the tangy-sweet balance of goat cheese
and pear is delicious warm or cooled (we continued to enjoy it with dinner).
Got oodles of pears? Try your hand making this Hard Pear Cider!
Pear & Goat Cheese Appetizer
Fresh pear and creamy goat cheese bring a tangy-sweet balance of flavor when garnished with honey and balsamic for a simple, elegant appetizer.
Instructions
Heat oven to 375°F. Slice pear and arrange on an oven-safe platter or plate. Dot with goat cheese. Sprinkle walnut pieces over the pear and goat cheese.

Bake for

10-12 minutes

, or until cheese is lightly browned in spots. Remove from the oven and drizzle with honey and balsamic, as desired.
Nutrition
Calories:
54
kcal
|
Carbohydrates:
4
g
|
Protein:
2
g
|
Fat:
3
g
|
Saturated Fat:
2
g
|
Cholesterol:
6
mg
|
Sodium:
52
mg
|
Potassium:
34
mg
|
Sugar:
3
g
|
Vitamin A:
145
IU
|
Vitamin C:
1.2
mg
|
Calcium:
23
mg
|
Iron:
0.3
mg
More Easy, Elegant Appetizer Recipes: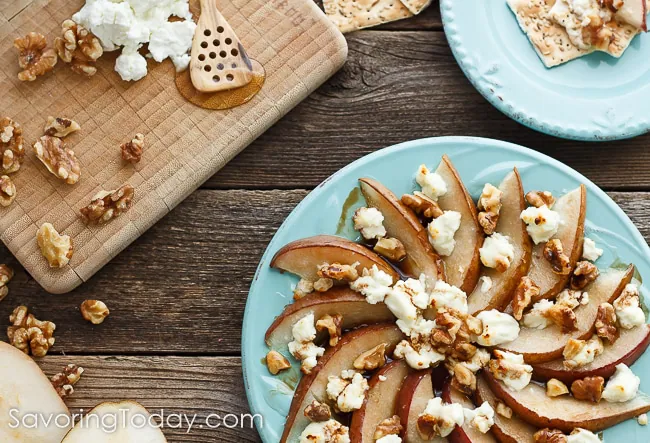 ---
This post contains affiliate links. If a purchase is made through these links, I receive compensation without any added cost to my readers. Thank you for supporting what I do here at Savoring Today. For more information regarding ads and advertising affiliations, please see our Disclosure Policy.