Trying to use up the last bit in that Greek yogurt container and free up some room in the fridge?
Trying to get more of the good stuff in your life and treat your gut right?
Then you're in the right place!
We've put together a roundup of more than 18 recipes for Breakfast, Dips and Sauces, as well as Baking and Desserts, to help you mix Greek yogurt into more of your meals.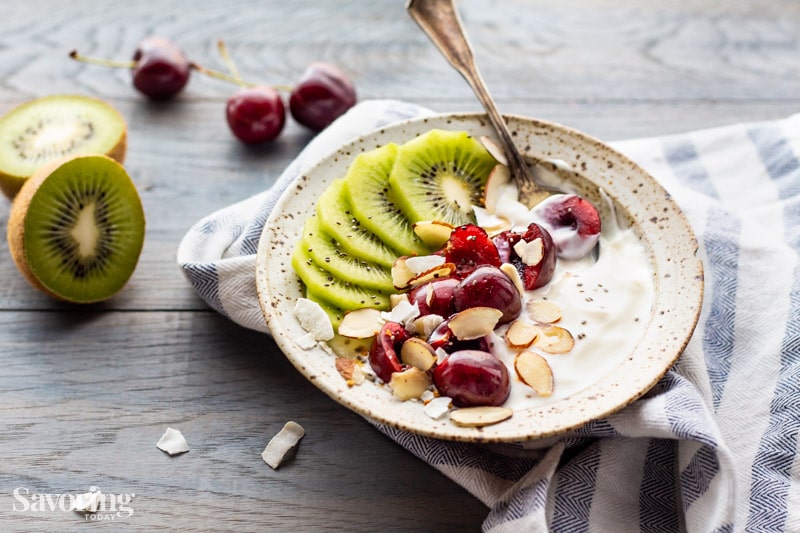 There are endless uses for Greek yogurt, from savory to sweet, dips and dressings, to frozen yogurt and smoothies. This versatile ingredient is a meal all its own or a handy substitute in baked goods and sauces, so I always keep a tub in the refrigerator.
When shopping, I pass by all the flavors and go straight for plain full-fat Greek yogurt because I can't use vanilla or strawberry in sauces, but I can easily add those things at home.
It's cheaper to buy a larger tub of plain and mix in what I want than pay for the extra labor and numerous small containers built into the price of small yogurt cups. More variety, less waste.
It's also easier to thin Greek yogurt to substitute for regular yogurt in recipes which makes it the most versatile of the two.
TOP TIP: Don't use aluminum cook or bakeware with Greek yogurt, the acidity reacts to the metal causing off-putting flavors and may even discolor the pan (as with any acidic foods).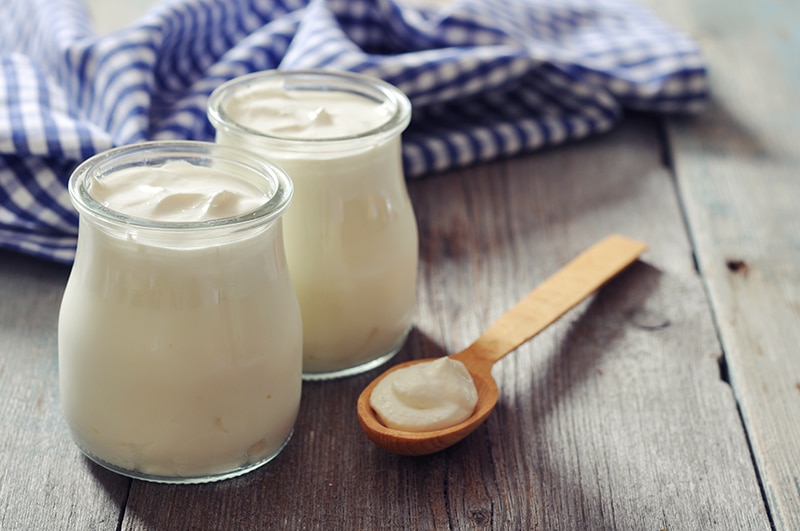 What to look for when buying Greek yogurt
Yogurt is not complicated and doesn't require a long list of ingredients, so keep this in mind when reading labels at the store. Both regular yogurt and Greek yogurt are made by fermenting milk with live cultures (Lactobacillus acidophilus) and are even easy to make at home.
Greek yogurt goes through an additional straining process which gives it a thicker velvety texture because the liquid whey is removed. Even though this is a simple step, it does take time so some manufacturers shortcut this process by adding cornstarch or gelatin to thicken their yogurt.
Bottom line: The only ingredients plain yogurt should have is milk and cultures.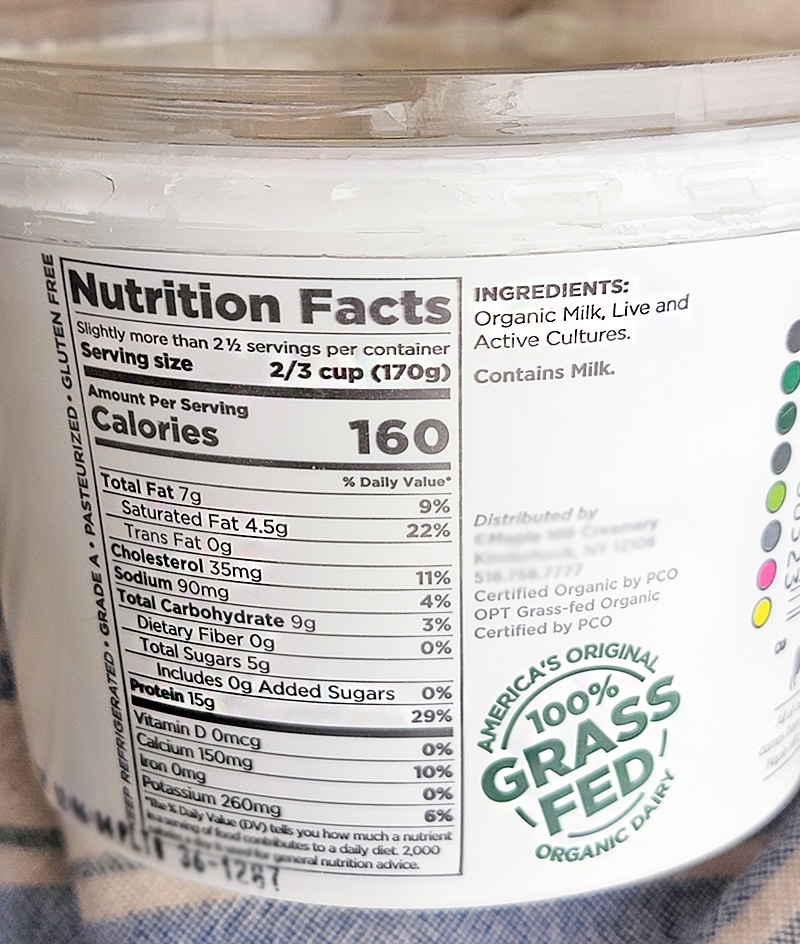 Why Use Full-Fat Greek Yogurt (5%) vs Low-Fat (2%) or Non-Fat (0%)?
Full-fat Greek yogurt is made using whole milk, whereas the non-fat variety is made using skimmed milk. The full-fat (5%) yogurt has better flavor and texture making it an ideal partial substitute for creamy ingredients like heavy cream, sour cream, and mayonnaise.
Its superior richness is why it is most often the type called for in recipes and therefore also the most versatile. In fact, even if a recipe called for non-fat, I'd use full-fat yogurt instead.
Can I use non-fat yogurt in recipes that call for full-fat yogurt?
Yes, in a pinch, you can use non-fat Greek yogurt instead of full-fat yogurt by adding 1-2 tablespoons of heavy cream to the non-fat yogurt or mixing in sour cream for part of it. How well the substitution works will really depend on the type of recipe—stick to dips or salad dressings for best results.
Dips and cold sauces are more forgiving with substitutions, while baked goods require a certain level of fat to retain a pleasant texture.
TOP TIP: Take care when using yogurt for heated dishes and only add it towards the end of the cooking process. Warm it through but do not cook it on high heat as it can curdle and split.
GREEK YOGURT BREAKFAST RECIPE IDEAS
Yogurt is a great breakfast option all on its own. Spoon some into a bowl, sweeten with honey, and top with your favorite fruit, nuts, and seeds or granola for a fast, healthy breakfast.
But it goes well beyond the bowl to the blender, a griddle, or a baking pan too. Use these recipe ideas as a guide to endless possibilities for adding yogurt to the start of your day.
BONUS: You can freeze smoothies as they make great popsicles too.
GREEK YOGURT IN DIPS, DRESSINGS, AND SAUCES
The tangy flavor of yogurt makes it ideal for adding a zesty note to dips and salad dressings and can usually be included as a 1:1 swap for sour cream or buttermilk.
Like buttermilk, yogurt also creates simple marinades that work with chicken, pork, and fish, especially when mixed with herbs, spices, or Dijon mustard.
Yogurt can be used to thicken sauces, but because it lacks the fat of heavy cream, it is best to add either cornstarch or flour to keep it from curdling.
TOP TIP: Two teaspoons of cornstarch or one tablespoon of flour added in for every one cup of yogurt is the best approach for thickening sauces. Always mix the starch into room temperature yogurt before adding it to a sauce, and never let it boil.
BAKED GOODS AND DESSERTS WITH GREEK YOGURT
Quick breads, fruit parfaits, and frozen treats all benefit from the tart flavor of yogurt. Yogurt also provides the acid that baking soda needs to activate leveling, making it a great substitute for buttermilk or sour cream in baked goods.
Choosing a no-bake dessert recipe is a great way to keep all the probiotic benefits we love about yogurt while still enjoying a delicious treat.