Roast Beef & Vegetable Soup using leftover beef roast can be made entirely from scratch or in this case, from pot roast made days earlier.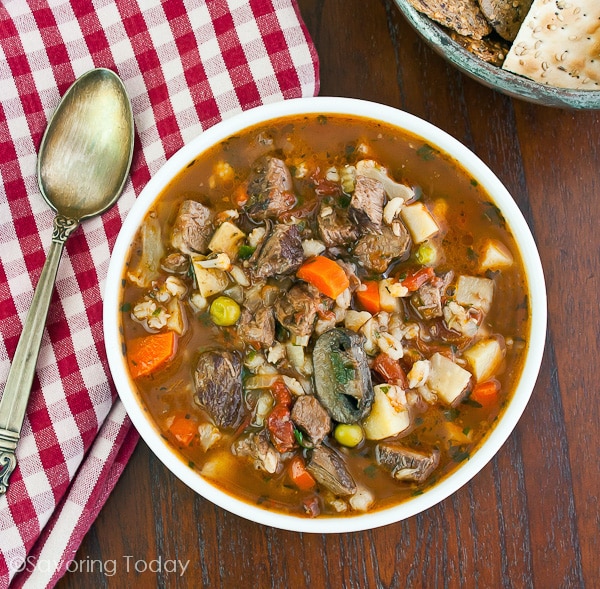 Is it winter where you are? If so, you're probably in the mood for hearty soup. The kind that when the spoon drops to the bottom of the empty bowl, you are warmed through and satisfied all the way down to your toes.
I'm talking a complete dinner in one bowl.
At our house, soup is a weekly addition to the menu as soon as the calendar dips below October. Little else soothes a bone-chilling day quite like stew, soup, chowder, or chili.
The best soups are created from layers of flavor and a good base (broth or stock) is essential to soup.
That's why when my daughter called asking for comfort food recipe ideas, specifically soup suggestions, I recommended Beef Pot Roast.
"Mom, I want to make soup," she said, like I didn't hear the original request.
"Exactly, so start with beef pot roast, which tops the comfort food list all on its own. Then you'll have what you need for a great pot of soup." I tell her a little more insistently.
I think she was mildly intimidated to take on two recipes to assuage her hankering, but she knew I was only a phone call or text away if she hit a snag.
When she finally pulled it out of the oven, I said, "Congratulations, you just made Boeuf Bourguignon."
"What?" Now she's confused.
"It sounds more difficult than it is, but you did it." (Proud mom over here.)
"Oh, great. Now I can make soup." She pipes up with new confidence.
"Yes, but first put some butter on those potatoes and carrots, pour some wine and enjoy your savory beef, sumptuous gravy, and roasted vegetables first. Then make soup."
After talking about pot roast all afternoon and knowing how the aroma was filling her cozy rooms, I had to make it too. Of course, this led to Roast Beef & Vegetable Soup (because she needed a recipe for that too).
I've made this type of soup a dozen or more times with either leftover Beef Pot Roast or Osso Buco Style Beef Ribs, but now it's finally written down, including pressure cooker instructions in the notes.
Hey, when your kids need you … right?!

How to make Beef & Vegetable Soup Using Pot Roast Leftovers: 
This soup recipe comes together from leftover pot roast, so the measurements of each ingredient may need to be supplemented with fresh meat or vegetables.
The amounts can be made up with fresh vegetables of choice, i.e. fresh carrots added to the amount of roasted carrots to equal 1 cup, parsnip substituted for cauliflower, and so on.
When adding raw stew meat, be sure to brown the meat in a skillet before adding it to the soup.
Vegetables with lower water content are ideal for soup to hold their texture and shape—potato, parsnip, carrot, cauliflower, peas, peppers, green beans, eggplant.
Cabbage, spinach, asparagus, and broccoli can also be used, however the stronger flavor of these add-ins can overwhelm the more subtle flavors of Beef & Vegetable Soup.
When adding vegetables with higher water content, saute in a skillet before adding to the soup, then add-in the last few minutes of cooking to retain texture.
Roast Beef & Vegetable Soup
A recipe guide for making Roast Beef and Vegetable Soup with pot roast leftovers, including recommended measurements and substitutions.
Ingredients
1/2

cup

barley

uncooked

2

tablespoons

olive oil

1

cup

diced sweet yellow onion

(1/2 large onion)

1

cup

cubed celery root

(1/4" cubes)

1

cup

chopped cauliflower

(1/4" pieces)

3/4

cup

diced celery

(3 stalks)

4

cloves

garlic

minced

2

teaspoons

sea salt

1

teaspoon

pepper

2

teaspoons

dried thyme

1

teaspoon

dried basil

1

teaspoon

dried oregano

8

cups

beef broth

1

bay leaf

1 - 2

inch

piece Parmesan rind

optional

1 1/2

cup

gravy with mushrooms

(pot roast leftovers) **see note

26-28

ounces

chopped tomatoes

San Marzano tomatoes are ideal

2

cup

roasted potatoes

(pot roast leftovers) -- cut into 1/2" cubes

1

cup

roasted carrots

(pot roast leftovers) -- cut into 1/4" pieces

1/2

cup

peas

1 1/3

lb

roast beef

(pot roast leftovers) -- cubed 1/2" pieces

1/4

cup

chopped parsley
Instructions
Bring barley and 3 cups water to a boil over high heat. Reduce heat and simmer 30 minutes. Drain and set aside when barley is tender and cooked through.

In a large soup pot over medium heat, add the oil, onion, and celery. Cook, stirring occasionally, until onions are translucent and edges begin to brown, about 10 minutes.

Add any uncooked vegetables--in this case I had a small amount of raw potato, celery root, and cauliflower--along with the garlic, dry herbs, salt and pepper. Continue to cook until vegetables soften (add oil as needed), about 10 minutes.

Add the broth, bay leaf, and Parmesan rind to the vegetables and bring to a low boil. Stir-in gravy, tomatoes, peas, (leftover) cooked vegetables, barley, and meat. Bring to a simmer and cook for 30 minutes to meld flavors.

Stir-in parsley the last 5 minutes of cooking, adjust seasoning for salt and pepper, to taste. Serve hot.
Notes
**This is optional, but does bring a deeper flavor to the soup. Allowing extra beef stock to simmer on the stove for an hour to reduce and concentrate is a good substitute.
If using a pressure cooker, cook for only 8-10 minutes in STEP 3.
Equipment
Nutrition
Calories:
383
kcal
|
Carbohydrates:
41
g
|
Protein:
33
g
|
Fat:
10
g
|
Saturated Fat:
2
g
|
Cholesterol:
68
mg
|
Fiber:
8
g
|
Sugar:
8
g
|
Vitamin A:
4895
IU
|
Vitamin C:
105.6
mg
|
Calcium:
485
mg
|
Iron:
8.8
mg
Shared on the following Blog Hops:
Hearth & Soul Hop
More Great Soup Recipes We Think You'll Love:
Cream of Asparagus Soup
Chicken Tortilla Soup
Curry Spiced Butternut Squash Soup
Helen's Chicken Soup: Chicken-Corn Chowder
Smoked Turkey Bean Soup
Seafood Chowder Recipe with Clams, Shrimp & Fish
Corn & Green Chile Chowder
Homemade Chicken Stock for Soup